Taketsuru 21 Year Old
70cl / 43%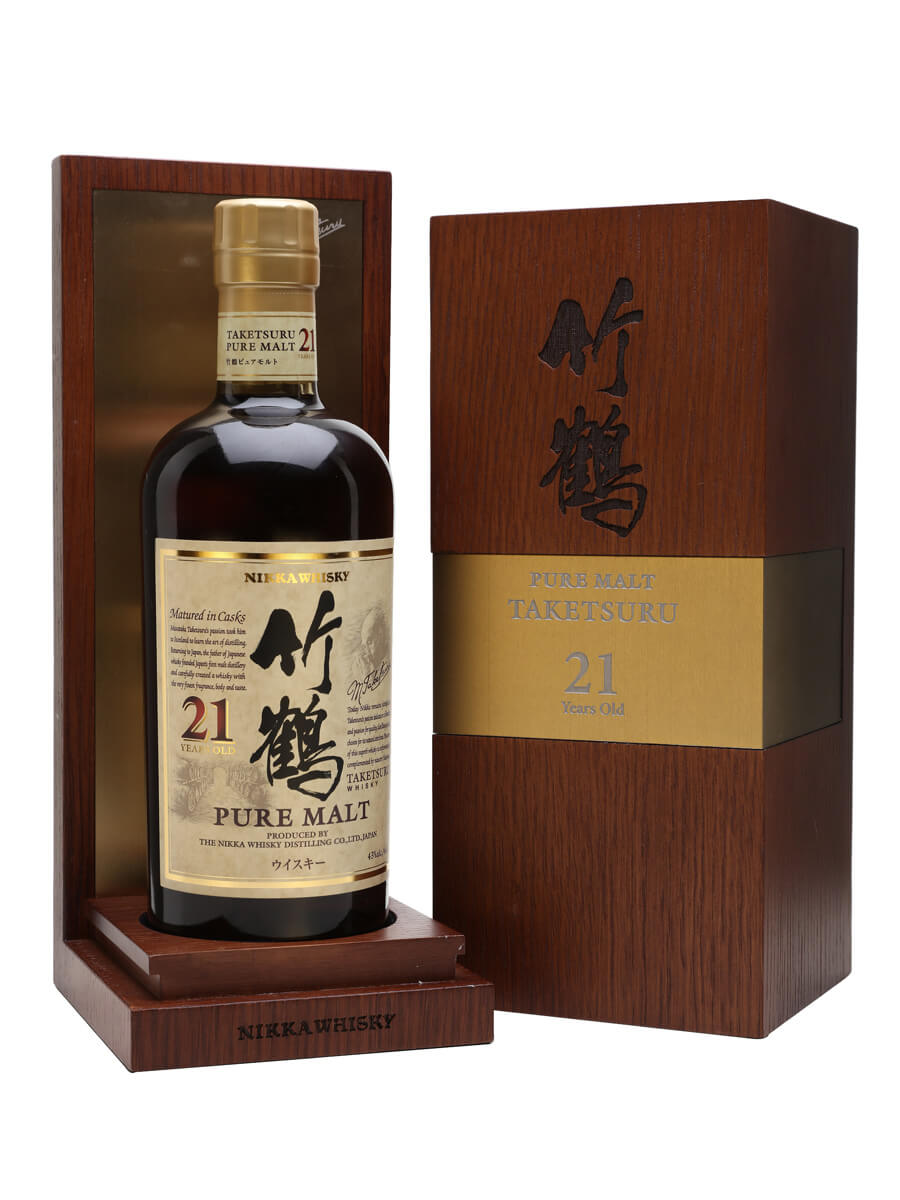 You must be aged 18 or above to buy alcohol in the UK
Not Available
This product is currently out of stock
Enter your email address below to be notified when this product is available.
February 2010 marked an extraordinary achievement for Nikka, as their Taketsuru 21yo scooped the title of 'World's Best Blended Malt Whisky' at the World Whiskies Awards for the third time in four years. Bravo, Nikka!.
Tasting Notes (3)
Flavour Profile
Style
Body

Richness

Smoke

Sweetness
Character
Black Pepper

Ginger

Prunes

Orange

Marmalade

Oak
Facts
Facts
Age

Country

Japan

Type

Blended Malt

Colouring

Yes
Tasting Notes
Tasting Notes
Tasting Notes by Stuart P

Nose

Very classy aromas of crème brûlée, sweet spice and chocolate with some top-class oak on show.

Palate

Rich and big flavoured, with a lovely combo of caramelised sugar, milk chocolate and toasty spice, along with candied orange peel.

Finish

The candied fruit blends well with the spice.

Comment

Big and bold, this whisky is unashamedly full flavoured, but everything remains in balance.

Tasting Notes from Whiskyfun (Serge Valentin)

Nose

Much less varnish and more roundness although it seems to be just as oaky as the 17. Lots of plums, sauce for Pecking duck (how oriental is that?), strongly reduced wine sauce, liquorice… Really concentrated. Lots of milk chocolate as well.

Mouth

Balanced, slightly peppery at the attack – quite some salt as well. Prunes, walnut skin, soft curry, dried oranges, ginger. Gets quite drying (quite some tannins, lots of cinnamon). Very good.

Tasting Comments from The World Whiskies Awards 2007

"Head and shoulders above the rest in this category. A complex mix of oak, smoke and dense toffeed sweetness."

Dave Broom

"Apple blossom, juicy pears and apples, mingled with fresh grass on the nose. Also a hint of mint. Smooth, delicate and sweet on the palate with a sweet rounded finish. Absolutely charming. Reminiscent of a walk in a Norman orchard bathed in morning dew."

Martine Nouet

"Rich and inviting nose, with lots of sherried fruits. Rich red fruits and weighty aged malt and wood notes. The finish is lingering and delightful."

Dominic Roskrow

"Big with lots of ripe fruit, lychees in particular. Some mint and butterscotch increase the complexity. Soft and chewy with some mango character. Very attractive."

Keir Sword

"A big whisky with some distinct sherry notes. Japanese whisky at its best."

Thierry Benitah.
More from Taketsuru
Customer Reviews
Reviews (8)
Reviews
5

Best whiskey i have tried. Bought it in 2012 @ 80 pounds a bottle. Wish i bought some more!!!!

5

simply amazing

Well, firstly the nose is of pure charm It instantly let's you know, Your taste buds will approve. Big punchy elegant waves of flavour. Seriously, I could sniff this all day. Worth every penny. The Japanese for me are taking things up at an admirable level Steve Mcgiff, Cornwall...

I am writing this in August 2013. I visit Japan regularly and I am currently buying bottles of Taketsuru for 6,000 yen duty free and the Yamazaki 18 year old for 15,000 yen duty free. Both are delicious and they have similar characteristics. Quite why the Taketsuru is more here than the Yamazaki is a mystery to me. But it may be of comfort to think you can buy the Yamazaki here for the same price as at the airport in Tokyo

Softer and more subdued than the 17 year. A very appealing whisky but lacking the elemental force of its younger brother.
Disclaimer
Disclaimer
While we endeavour to provide full and accurate information on our website, there may be occasions where producers have updated their recipe or failed to provide full details of their ingredients and processes. This may affect factors including the product style and allergen information, and we would advise that you always check the label and not solely rely on the information presented here. If you are at all uncertain about a product then please contact our customer service team before purchase.
Good To Know
How we pack
Eco-friendly Packaging

Our boxes are made of 100% recyclable cardboard. Our special air-inflated packaging is both re-usable and recyclable, as well as efficient to both transport and dispose of.

Flexible Delivery Options

We deliver to countries all over the world! You can also select express delivery, or pick a specific delivery date, at checkout.

Packed With Care

Our experienced warehouse team take great care with every order. As specialists in glass packaging they ensure that your items stay safe and secure in transit.
14-Day returns policy
We want you to be 100% happy with your order and it is our aim to ensure that all products supplied to all customers arrive in perfect condition. You have the right to cancel your order at any time without being charged for the goods ordered within 14 days of purchasing (other than for perishable or personalised products or those products that have been specified as non-returnable).