Highland Park Ice 17 Year Old
Island Single Malt Scotch Whisky
Distillery Bottling
70cl / 53.9%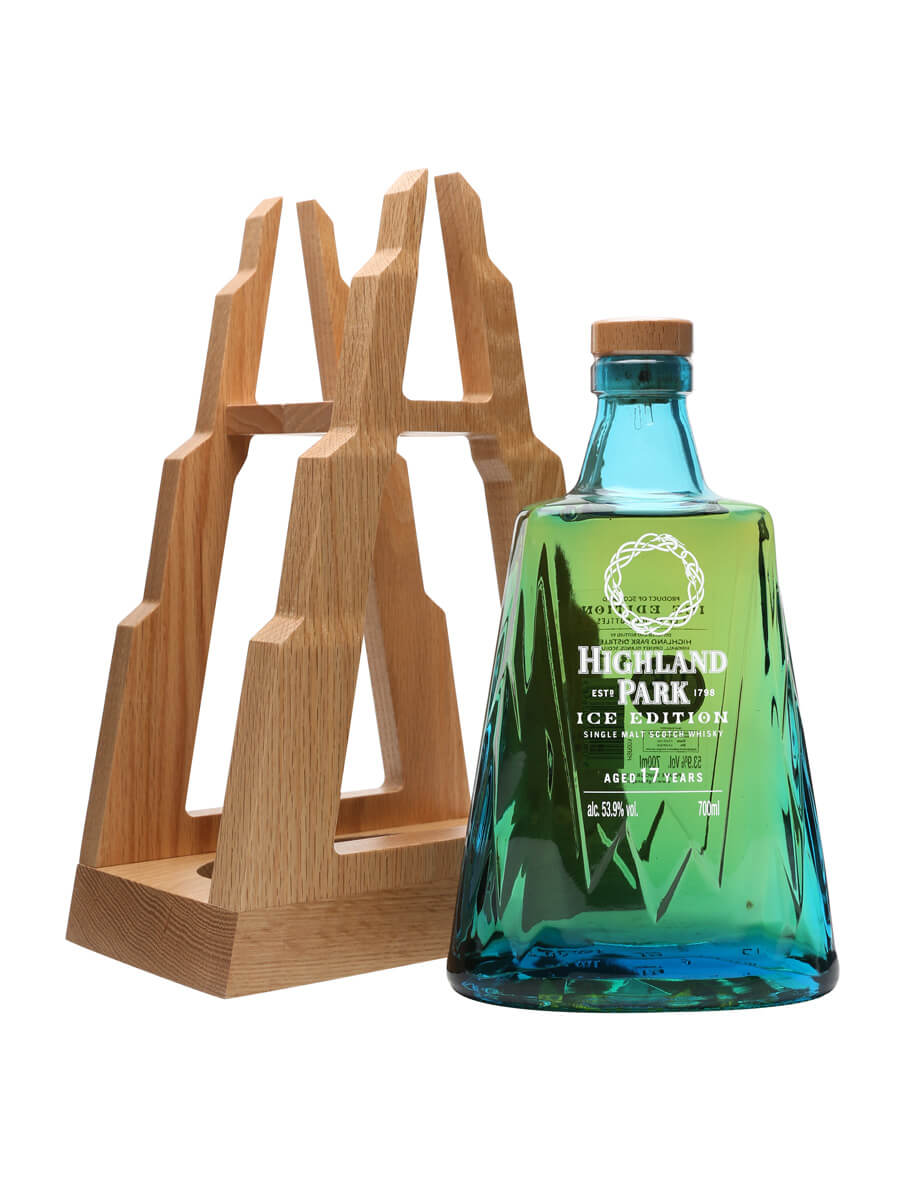 Not Available
This product is currently out of stock
Enter your email address below to be notified when this product is available.
Ice Edition is a 2016 limited-edition release from Orkney's Highland Park, which follows on from the Valhalla Collection. Aged for 17 years, predominantly in ex-bourbon casks, this is a powerful whisky with notes of vanilla, spice and peat.
Tasting Notes (2)
Flavour Profile
Style
Body

Richness

Smoke

Sweetness
Character
Vanilla

Smoke

Honey

Cream

Oak

Honeysuckle
Facts
Facts
Bottler

Distillery Bottling

Age

No of Bottles

30,000

Country

Scotland

Region

Island
Tasting Notes
Tasting Notes
Tasting Notes by Stuart P

Nose

Clean fruit and crisp barley – very bright and polished – then fragrant notes of banana and honeysuckle along with buttered toast and honey, and fresher notes of green apple, grass and melon.

Palate

Again, clean, crisp and fruity on the palate, then the smoke starts to appear, adding a rich layer of depth, mingling beautifully with cereal and toasty notes. Water does not help this whisky; I don't think it needs it.

Finish

Soft notes of honey-drenched toast and brioche.

Comment

Such a fruity whisky; brighter and more elegant than almost any other Highland Park I've tried. 'Ice' is an appropriate name….

Producer's Tasting Notes

Colour

Naturally radiant and vivid in colour; glacial, mirror-like brightness.

Nose

Resplendent aromas of cool, fresh pineapple and ripe mango sorbet come to life in this celebration of glacial character. Silvery shards of smoke give way to the frosty kick of root ginger.

Palate

Like the Ice Giants themselves, the palate is powerful yet mellifluous. In true Highland Park style, the combination of an argent, misty peat smoke is intertwined with pearly iridescent vanilla seeds and overtones of molten orris root.

Finish

Beautifully balanced, the creamy, rich, oily finish snowballs into long lingering woodiness and dry, feverish spices, providing a scintillating and harmonious whisky to savour.
Customer Reviews
Reviews (2)
Reviews
5

Absolutely Fantastic

5

The best present I have received yet.
Disclaimer
Disclaimer
While we endeavour to provide full and accurate information on our website, there may be occasions where producers have updated their recipe or failed to provide full details of their ingredients and processes. This may affect factors including the product style and allergen information, and we would advise that you always check the label and not solely rely on the information presented here. If you are at all uncertain about a product then please contact our customer service team before purchase.
Good To Know
How we pack
Eco-friendly Packaging

Our boxes are made of 100% recyclable cardboard. Our special air-inflated packaging is both re-usable and recyclable, as well as efficient to both transport and dispose of.

Flexible Delivery Options

We deliver to countries all over the world! You can also select express delivery, or pick a specific delivery date, at checkout.

Packed With Care

Our experienced warehouse team take great care with every order. As specialists in glass packaging they ensure that your items stay safe and secure in transit.
14-Day returns policy
We want you to be 100% happy with your order and it is our aim to ensure that all products supplied to all customers arrive in perfect condition. You have the right to cancel your order at any time without being charged for the goods ordered within 14 days of purchasing (other than for perishable or personalised products or those products that have been specified as non-returnable).