Glenfiddich 23 Year Old
Grand Cru
Speyside Single Malt Scotch Whisky
Distillery Bottling
70cl / 40%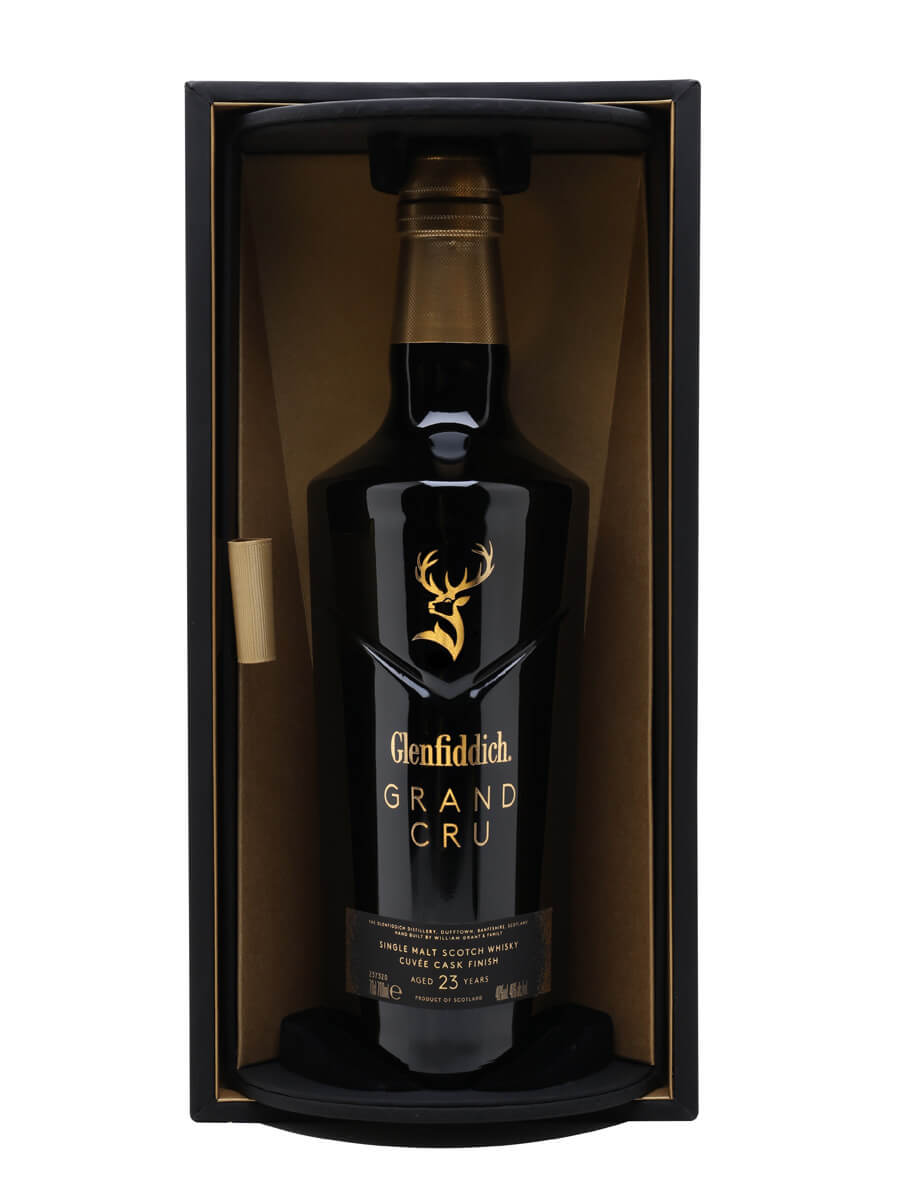 FREE UK Mainland standard delivery
In Stock
£242
£201.67 ex VAT
(£345.71 per litre)
You must be aged 18 or above to buy alcohol in the UK
Estimated Delivery
Express delivery

(Choose a day)

From £6.95

Standard delivery

(UK Mainland)

Free

Click & Collect

(Mon-Fri 10am - 5pm)

Free
Matured in a small number of ex-sherry casks and American oak casks, Glenfiddich Grand Cru has been finished for four months in a combination of first-fill and second-fill French oak casks that have been used to ferment wine that will eventually become a famous sparkling wine. The palate offers notes of creamy vanilla, brioche, pear sorbet and white grapes, complimented by aromas of freshly-baked bread, apple blossom and lemons.
Tasting Notes (1)
Flavour Profile
Style
Body

Richness

Smoke

Sweetness
Character
Apple

Peach

Biscuits

Brioche
Facts
Facts
Bottler

Distillery Bottling

Age

Country

Scotland

Region

Speyside

Cask Type

Wine Finish
Tasting Notes
Tasting Notes
Caroline Roddis (The Whisky Exchange)

Nose

Soft lemon and pink lady apple notes sit alongside a heavier creaminess. Marzipan and honey brioche follow. The apple becomes more intense with time, picking up grapes, floral honey and the merest hint of red fruits along the way.

Palate

Oily. Sweet, honeyed fruits and a rush of cream, then baked apple tart with extra apple skins and flecks of spice. The sweet nuttiness from the nose is present too.

Finish

Dry and short, with notes of hazelnuts, brioche and honeysuckle.
Customer Reviews
Reviews (7)
Reviews
5

Yes, I tried this product, and it was fantastic

5

I bought this as a gift and my friend was over the moon happy and excited. He LOVES it. The shipping was great as well. Thank you.

5

This is a delightful expression from Glenfiddich. Don't let the branding on the bottle throw you - this is a beautifully light and floral, classically Glenfiddich dram that is boosted by the patisserie notes.

5

The packaging alone is something diffent and a far cry from a bottle in a tube. I was quite impressed with the instant creamy mouth feel with sweet notes but not cloying then onto a crisp dry finish. More than what I would normally spend on a bottle but pleased that on the occasion I did it matched my expectations.

5

Bought this extraordinary whisky as a present for the hubby's job promotion. We wanted to save it for Xmas but couldn't resist the temptation to taste it immediately and it went way beyond our expectations! Despite my husband being a fan of Macallan he changed his heart for Glenfiddich after this sweet surprise. I hope they release more whisky like this one, definitely a great present - and stunning packaging.
Disclaimer
Disclaimer
While we endeavour to provide full and accurate information on our website, there may be occasions where producers have updated their recipe or failed to provide full details of their ingredients and processes. This may affect factors including the product style and allergen information, and we would advise that you always check the label and not solely rely on the information presented here. If you are at all uncertain about a product then please contact our customer service team before purchase.
Good To Know
How we pack
Eco-friendly Packaging

Our boxes are made of 100% recyclable cardboard. Our special air-inflated packaging is both re-usable and recyclable, as well as efficient to both transport and dispose of.

Flexible Delivery Options

We deliver to countries all over the world! You can also select express delivery, or pick a specific delivery date, at checkout.

Packed With Care

Our experienced warehouse team take great care with every order. As specialists in glass packaging they ensure that your items stay safe and secure in transit.
14-Day returns policy
We want you to be 100% happy with your order and it is our aim to ensure that all products supplied to all customers arrive in perfect condition. You have the right to cancel your order at any time without being charged for the goods ordered within 14 days of purchasing (other than for perishable or personalised products or those products that have been specified as non-returnable).