Chichibu 2014
Chibidaru Cask Exclusive To The Whisky Exchange
Japanese Single Malt Whisky
70cl / 59.5%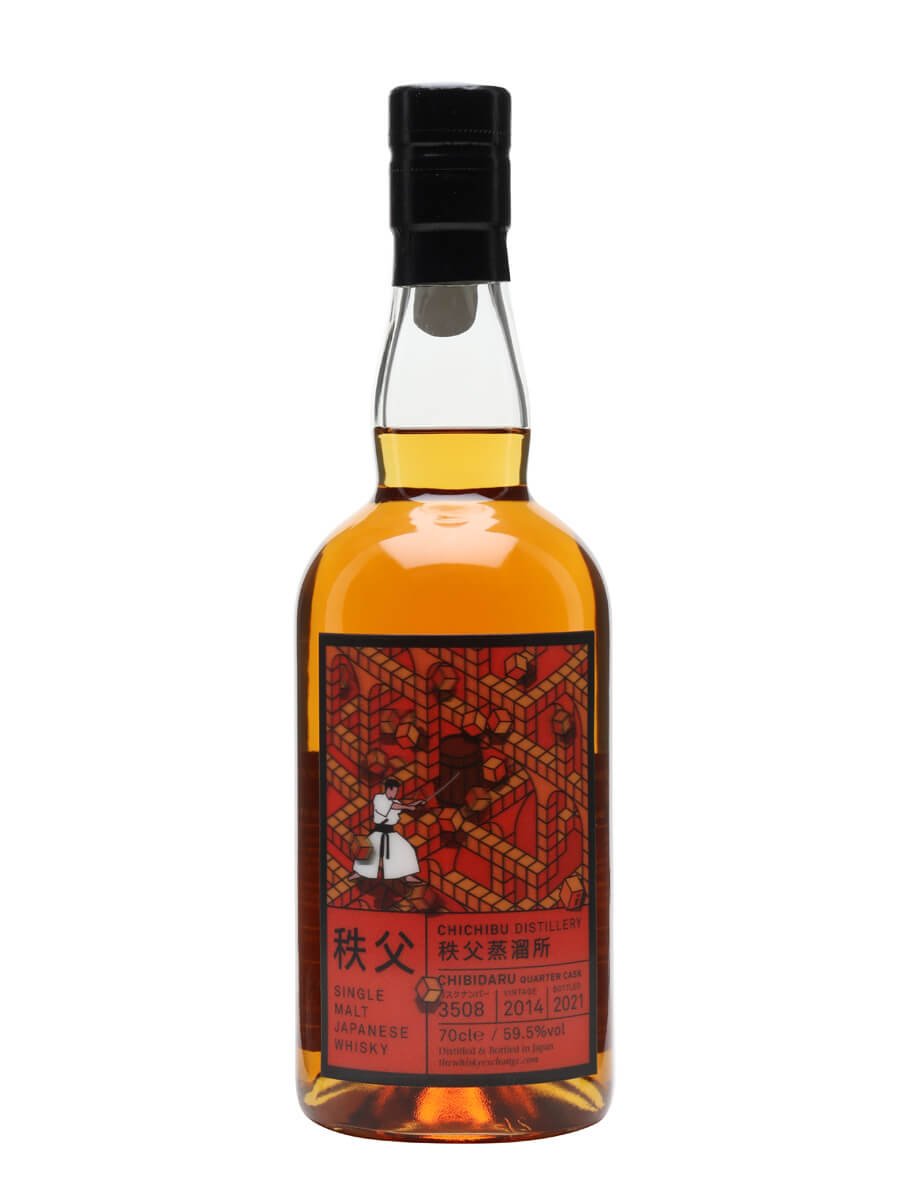 You must be aged 18 or above to buy alcohol in the UK
Not Available
This product is currently out of stock
Enter your email address below to be notified when this product is available.
A 2014-vintage whisky from Chichibu in Japan, one of the country's leading new distillers, selected by and bottled exclusively for The Whisky Exchange. This has been matured in a small chibidaru 'cute cask' – a 125l quarter cask – and has some smokiness to it, giving it an intense and multi-layered peat-and-oak character. It's the second bottling in our Chichibu Martial Arts Trilogy.
Tasting Notes (1)
Chichibu Martial Arts Trilogy
This release of three single-cask Chichibu whiskies – with three-dimensional lenticular labels designed by Elixir Distillers creative director Raj 'MrC' Chavda – celebrates Japanese martial arts and the great whisky being made at Chichibu. The very limited series consists of 2014-vintage beer and chibidaru casks, and a 2015-vintage ex-bourbon cask.
Facts
Facts
Vintage

Bottling Date

2021

No of Bottles

119

Country

Japan

Cask Type

Chibidaru Quarter

Cask Number

3508
Tasting Notes
Tasting Notes
Billy Abbott, The Whisky Exchange

Nose

Freshly cooked rice, milled barley and Portuguese custard tarts, although light on the sugar. Rich and savoury at first, with hints of sweet grain developing. Fresh baguettes, slathered in very good butter, are join by crisp and buttery croissants, and hints of salty preserved lemon and candied violet. Grilled ears of sweet corn – complete with husks – and soft charcoal smokiness drifts around the edges.

Palate

Soft smoke leads: burning mint leaves, charred oak and dusty charcoal. Anise follows the mint along with dark chocolate, bright green spring leaves and a touch of gravel. Sweetness builds, much more noticeable than on the nose, and grilled apples and pears sit alongside mint fondant and sweet dark chocolate.

Finish

Singed wood and charcoal ash linger with charred apples and mint slowly fading.
Disclaimer
Disclaimer
While we endeavour to provide full and accurate information on our website, there may be occasions where producers have updated their recipe or failed to provide full details of their ingredients and processes. This may affect factors including the product style and allergen information, and we would advise that you always check the label and not solely rely on the information presented here. If you are at all uncertain about a product then please contact our customer service team before purchase.
Good To Know
How we pack
Eco-friendly Packaging

Our boxes are made of 100% recyclable cardboard and our protective honeycomb paper wrap keeps your package safe and significantly reduces our need for plastic.

Flexible Delivery Options

We deliver to countries all over the world! You can also select express delivery, or pick a specific delivery date, at checkout.

Packed With Care

Our experienced warehouse team take great care with every order. As specialists in glass packaging they ensure that your items stay safe and secure in transit.
14-Day returns policy
We want you to be 100% happy with your order and it is our aim to ensure that all products supplied to all customers arrive in perfect condition. You have the right to cancel your order at any time without being charged for the goods ordered within 14 days of purchasing (other than for perishable or personalised products or those products that have been specified as non-returnable).