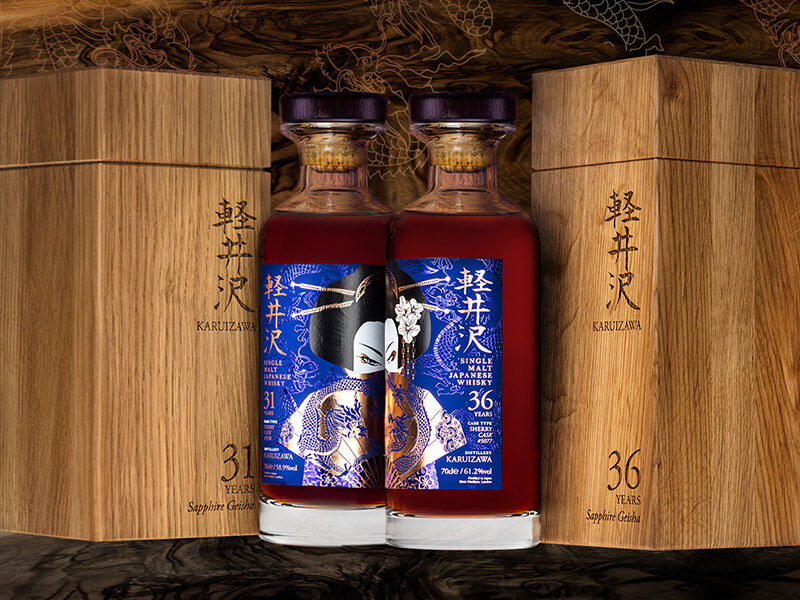 The Sapphire Geishas
Bottled by Elixir Distillers exclusively for The Whisky Exchange
The fifth instalment in the Karuizawa Geishas series, bottled by Elixir Distillers and exclusive to The Whisky Exchange, is comprised of two single-cask bottlings of this profoundly-rare and sought-after spirit. Aged in sherry casks for 31 and 36 years respectively, these Sapphire Geishas showcase the rich and lavish characteristics for which Karuizawa's output is so famed.
Established in 1955, Karuizawa, Japanese whisky royalty, would have marked its 65th anniversary this year – its Sapphire Jubilee. Though it has been two decades since the distillery's closure, these Sapphire Geishas pay tribute to its continuing legend, not to mention its place in our hearts.
Each bottle will be sold through a separate ballot. Enter one, or both, below.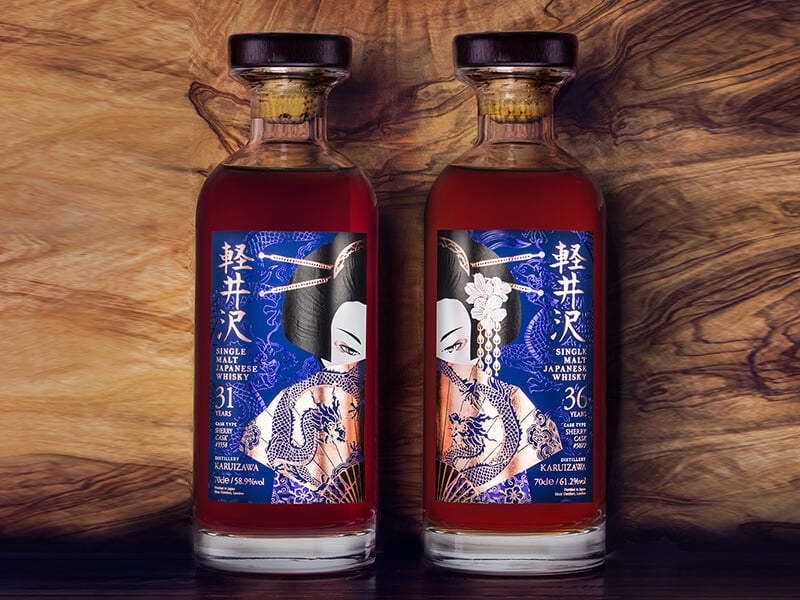 The Karuizawa Geishas series was created to bring the hidden beauty of the geisha to life. Often profoundly misunderstood, often written off as the product of a bygone age, the artistry of the geisha – much like that of Karuizawa – is manifestly worth celebrating. The labels, designed by our creative director Raj Chavda, pay homage to both the meiko's inaccessible beauty, and the skills and fortitude she must require on her path to becoming a geisha.
"As part of the Karuizawa geisha's journey" notes Chavda, "I was inspired by sapphire blue – a revered colour that is both synonymous with Japan's oceans and said to be graced with divine power. I combined this with dragon detailing in the background to create the impression of subtle but unmistakeable strength, reflecting the wisdom and status she has acquired."
The Sapphire Geishas were distilled in the 1980s, matured in ex-sherry casks and moved into glass demijohns when we felt they had reached the peak of perfection. Now, marking 65 years since the distillery was originally established, they stand to take their place in our Karuizawa Geishas collection.

31 Year Old

36 Year Old
Due to the rarity of this whisky, its sale will be conducted by ballot.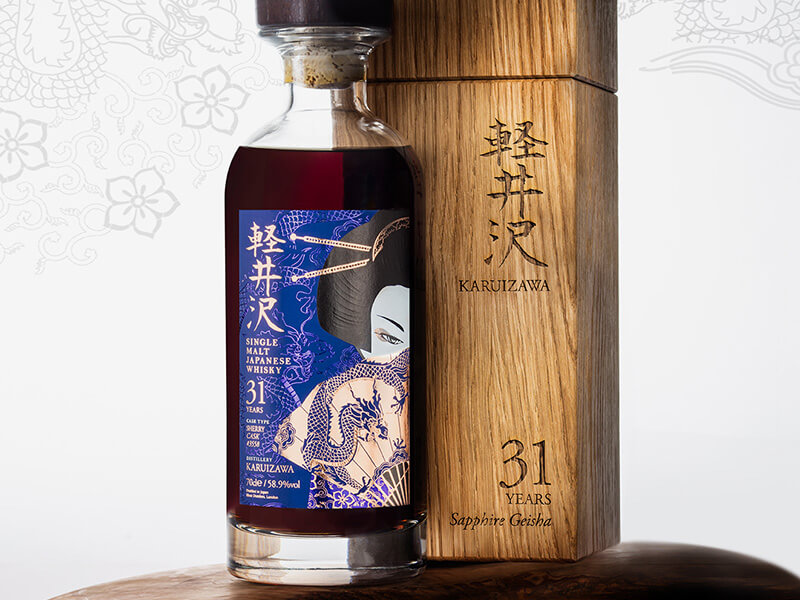 31 Year Old
Sherry Cask
£12,500
(£17,587.14 per litre)
Tasting Notes by Billy Abbott
THE WHISKY EXCHANGE
Nose

Thick chocolate sauce and leather, with seaweedy umami, rich riverbank loam and singed raisins. Sweeter and lighter notes of minty dark chocolate and glacé cherries develop in the glass along with hints of menthol and blackcurrant. Mint fondant wrapped in chocolate builds before fading slowly to reveal old damp oak boards, polished oak tables and rich forest-floor earthiness.

Palate

A burst of dark brown sugar sweetness is balanced by deep earth and oak savouriness before mint and menthol burst through the middle. Bittersweet chocolate and dried cherries sit alongside cigar-box cedar and damp tree bark. Intense dried-fruit notes build: rich dates and prunes with sweet raisins and sultanas. Lighter fruit emerges, with dried pineapple and baked apples heavily dusted with cinnamon and brown sugar.

Finish

Aromatic incense, cedar and polished oak provide a base for cherries, mixed berries, mint chocolate chips and chocolate-covered Seville oranges. The fruit fades away to leave bittersweet molasses and fragrant bark.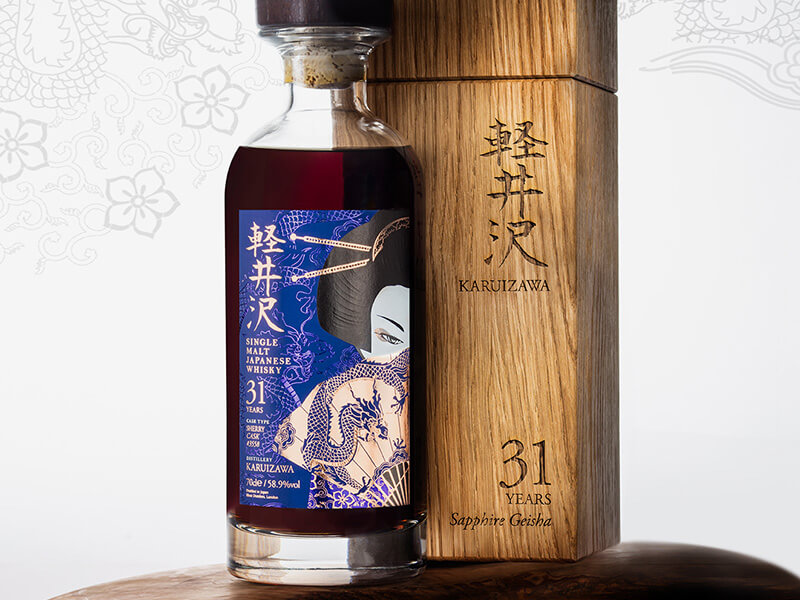 36 Year Old
Sherry Cask
£15,000
(£21,428.57 per litre)
Tasting Notes by Billy Abbott
THE WHISKY EXCHANGE
Nose

Rich dried fruit, sweet leather and mushroomy earthiness. The sweeter notes lead, with dried cherries and raisins joined by chamois leather, mint imperials and damp autumn leaves. The leafy notes become earthier, with touches of old spirit rancio and dark damp wood developing. Pine builds alongside mint, with cedar not far behind, fragrant and spicy.

Palate

A kick of chocolate-covered liquorice leads to spicy leaves, cinnamon heat and concentrated fruit: pineapple, mango, apple and pear compressed to a singularity of flavour. Blackcurrants and damp oak develop, all coated in fruity, bittersweet dark chocolate. Hints of tar emerge, wrapped around pine twigs and run through with spice and brown-sugar sweetness.

Finish

Mint and pine linger, with soft dried fruit sweetness and hints of black liquorice.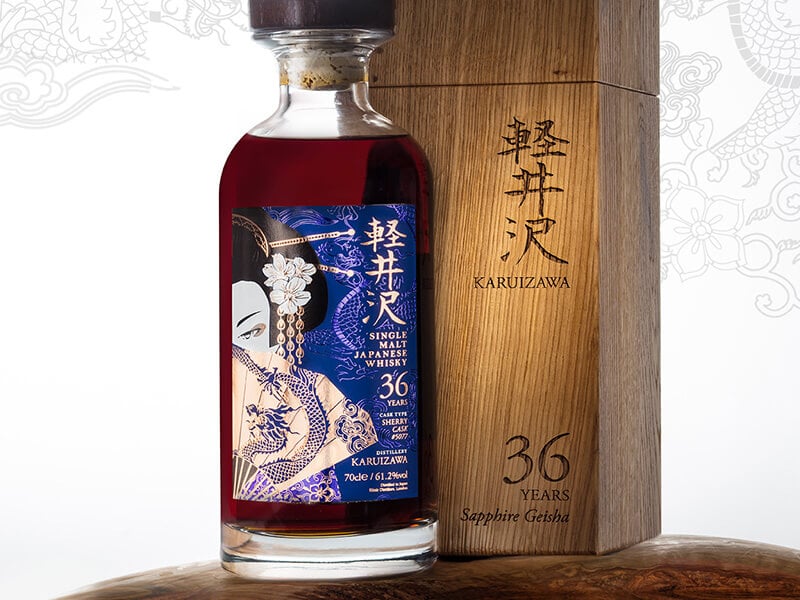 The Ballot
The ballot for The Karuizawa Sapphire Geishas is now closed. If you have already entered, we will let you know whether you were successful as soon as possible.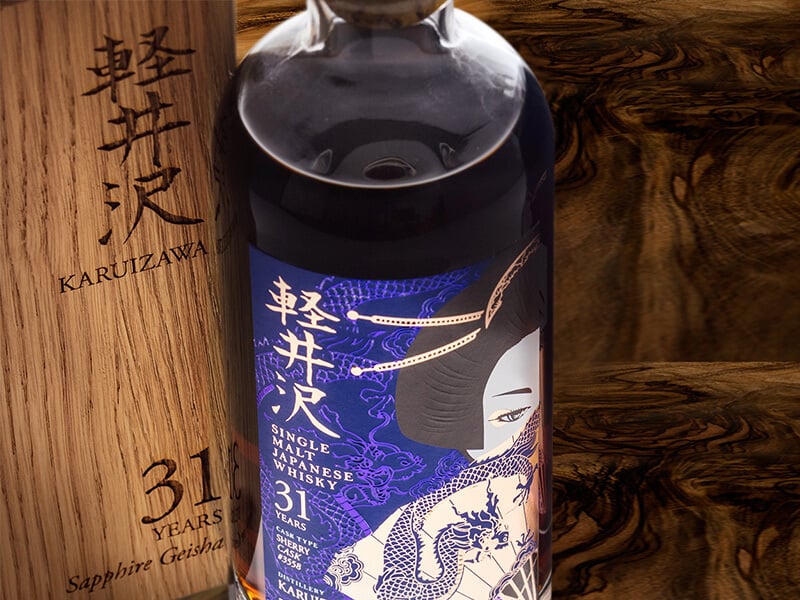 Prooftag
Fake bottles of rare whisky and spirits do occasionally appear on the market. It is therefore important for you to be 100% sure your bottle is genuine and contains the liquid stated on the label. The Whisky Exchange and Elixir Distillers are working with Prooftag to ensure this.
Already used in the wine industry, the Prooftag Bubble Tag™ is a unique bottle seal that allows you to authenticate your whisky. No two tags are alike, and the combination of a code and uncopiable features means that you can check online that your bottle is real. Bottle authentication and more information can be found on the Elixir Distillers website.
Terms and Conditions
Only one entry per ballot per person. Multiple entries will be ignored.
The ballots for the 31 Year Old Sapphire Geisha and the 36 Year Old Sapphire Geisha will run concurrently.
If a customer's ballot entry is successful, they will not be able to choose which of the two Karuizawa Sapphire Geisha bottlings they purchase – they will be eligible only for the bottle/s for which they entered ballots.
Ballot draws will be conducted separately and sequentially. Each winner can only purchase one bottle. If a customer has entered both ballots and is successful in the first draw, their name will be removed from the second ballot.
The ballot will close at 23.59 GMT on Wednesday 26 February.
The draw will take place on or after Thursday 27 February 2020.
Winners of the Karuizawa Sapphire Geisha ballot will automatically be charged for one bottle plus any relevant taxes and charges. If the nominated payment method is declined, the entry is automatically forfeited.
Ballot winners will be contacted with confirmation of purchase.
Those unsuccessful in the ballot will receive confirmation that they have not been selected.
This ballot is not open to employees of The Whisky Exchange or associated companies.

For full TWE terms and conditions, please click here.

Other terms and conditions may apply.