Highland Park 21 Year Old
Island Single Malt Scotch Whisky
Distillery Bottling
70cl / 47.5%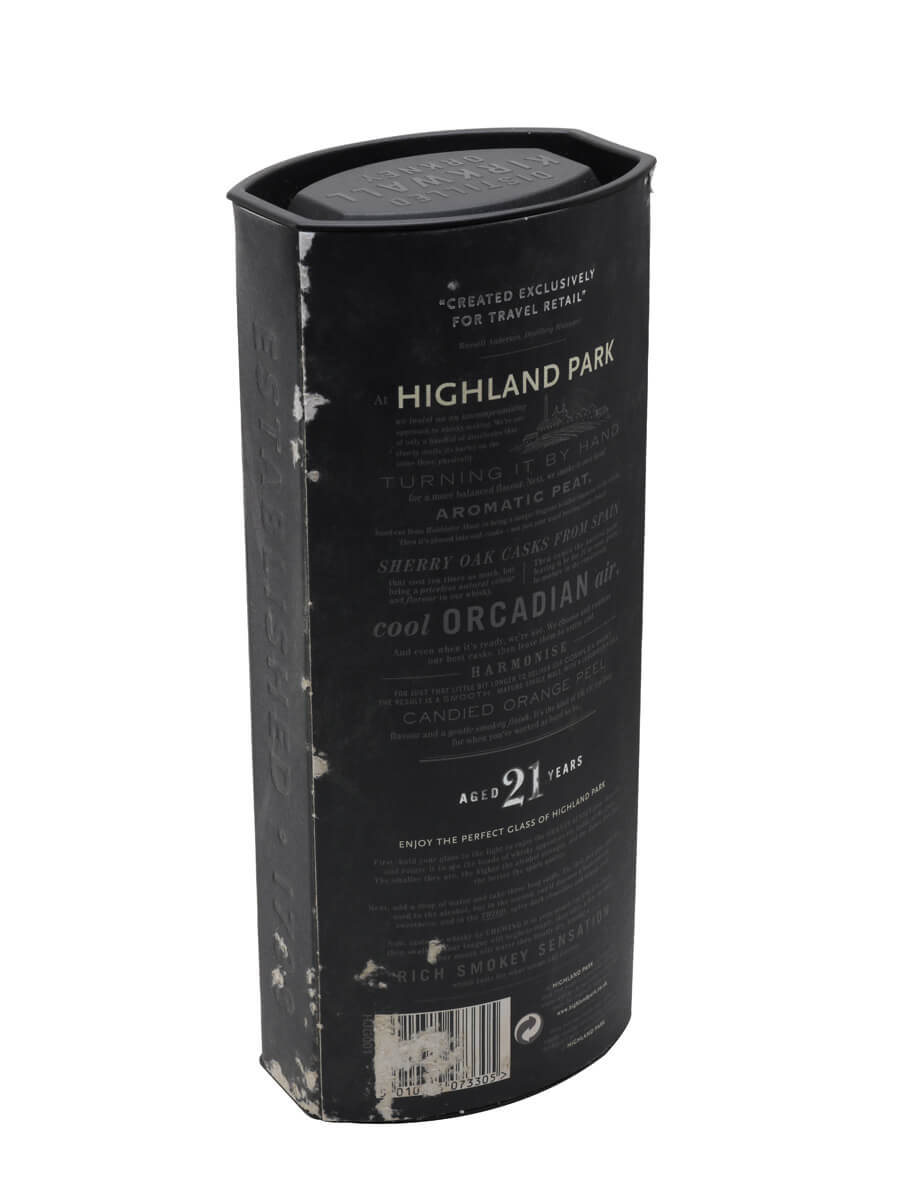 Not Available
This product is currently out of stock
Enter your email address below to be notified when this product is available.
A 2012 re-release of Highland Park 21 back at its old strength of 47.5% after a few years of languishing at a lower strength due to stock shortages. This has been much sought after in the travel retail sector and it's good to see it back on our shelves again. Absolutely terrific stuff.
Tasting Notes (1)
Facts
Facts
Bottler

Distillery Bottling

Age

Country

Scotland

Region

Island

Colouring

No
Tasting Notes
Tasting Notes
Class Magazine

Appearance: Clear, golden amber with a slight green tinge. Aroma: Sooty seaweed with a touch of linseed oil and appealing lightly smoked sappy wood, chocolate profiterole and faint orange zest aromas. Taste: Generous, slightly sweet, smoky, buttery palate - invigorated by a spray of sweet orange oils and rich dark chocolate. Aftertaste: Delicately smoked cedar, cigar box finish with hints of hazelnut. diffordsguide rating: 5+/5.
Customer Reviews
Reviews (4)
Reviews
5

Wow, this a great dram. The nose is sweet with hints of sherry, mouth feel is Sublime creamy and oily and robust, finish is long, sweet with bit of smoke and oak. 92/100, definite try and buy.

Highly recommended!

Stunning dram! Just finished a bottle that I got from the duty free and the level of maturation on this one is phenomenal, which clearly grants this dram its smooth, complex and refined characteristics. Huge development compared to the 12 YO expression. Very approachable in the sense that it is easily drinkable even at the strength of 47.5% ABV. Unlike the other reviewer, I don't think that this dram is expensive or overpriced; HP 21 YO, in fact, is worth every penny.

great whisky, tried at the TWE whisky show in 2011, smooth with wonderfull aromas and great taste, but too expensive when you can get an HP indi 20-21 Y for 50-65... and some exellent bottles of Lagsvulin or Talisker for 50-65 as well...if it was 70-75 i would consider buying it, but too pricy now
Disclaimer
Disclaimer
While we endeavour to provide full and accurate information on our website, there may be occasions where producers have updated their recipe or failed to provide full details of their ingredients and processes. This may affect factors including the product style and allergen information, and we would advise that you always check the label and not solely rely on the information presented here. If you are at all uncertain about a product then please contact our customer service team before purchase.
Good To Know
How we pack
Eco-friendly Packaging

Our boxes are made of 100% recyclable cardboard. Our special air-inflated packaging is both re-usable and recyclable, as well as efficient to both transport and dispose of.

Flexible Delivery Options

We deliver to countries all over the world! You can also select express delivery, or pick a specific delivery date, at checkout.

Packed With Care

Our experienced warehouse team take great care with every order. As specialists in glass packaging they ensure that your items stay safe and secure in transit.
14-Day returns policy
We want you to be 100% happy with your order and it is our aim to ensure that all products supplied to all customers arrive in perfect condition. You have the right to cancel your order at any time without being charged for the goods ordered within 14 days of purchasing (other than for perishable or personalised products or those products that have been specified as non-returnable).