Dalmore - Candela 50 Year Old
Highland Single Malt Scotch Whisky
Distillery Bottling
70cl / 45%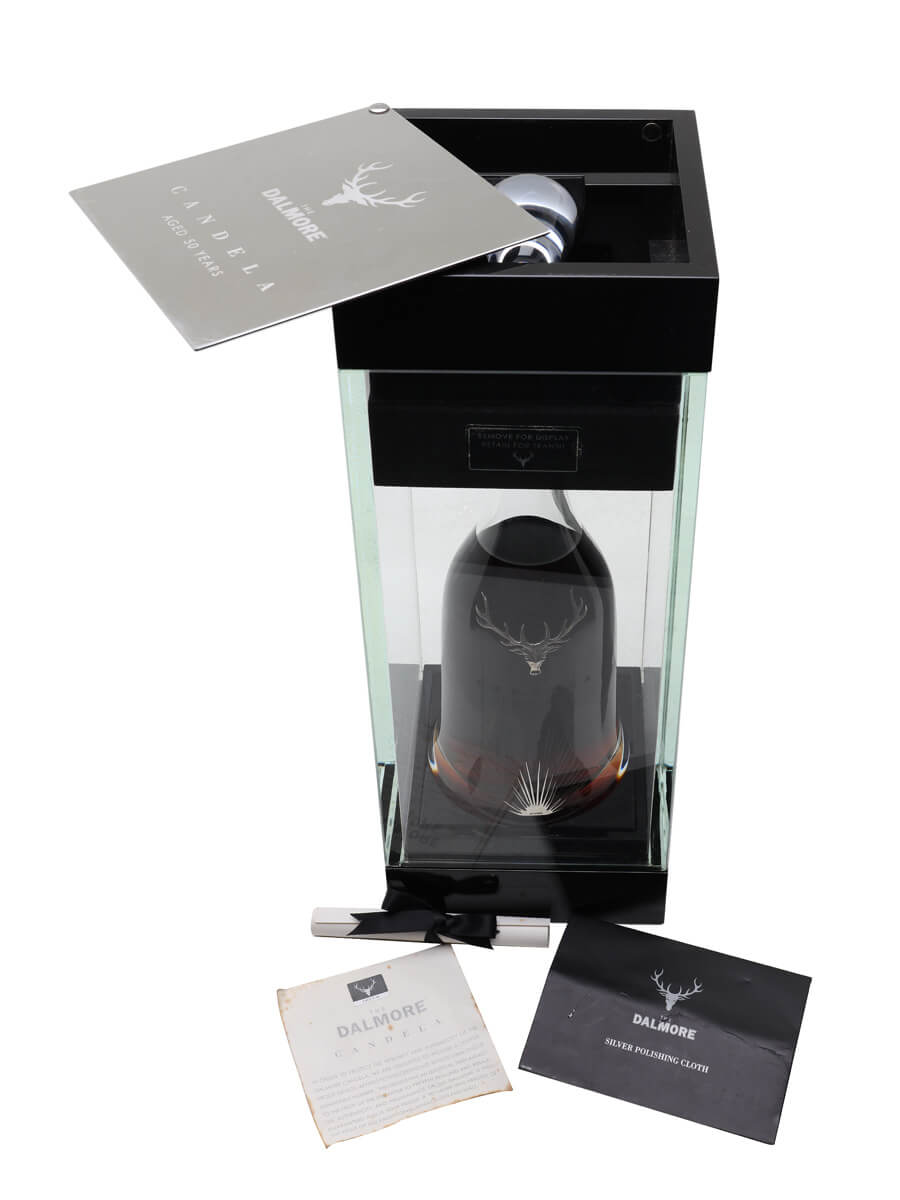 Not Available
This product is currently out of stock
Enter your email address below to be notified when this product is available.
"Candela is the international unit for the measurement of the intensity of light. It defines brilliance. So it seemed appropriate to name one of our brightest creations after this international standard. And whilst its brilliance transcends mere luminosity, we believe few other whiskies shine as brightly."
Official notes by The Dalmore
Tasting Notes (1)
Facts
Facts
Bottler

Distillery Bottling

Age

No of Bottles

77

Country

Scotland

Region

Highland

Colouring

Yes
Tasting Notes
Tasting Notes
Tasting notes by Richard Paterson, Master Blender

Provocative and alluring, with the initial aroma of sultanas, ground coffee, chocolate praline and spicy orange. Next comes apple, honeyed marzipan, sweet molasses and morello cherries before whispers of caraway and Madeira cake complete the experience.

This is your chance to taste perfection, so savour it well.

Hold the spirit on the tongue to release first the flavours of ginger cake, spiced toffee, butterscotch and then coffee amaretto, roasted coffee followed with tropical fruits of guava and melon. Thick cut marmalade and citrus fruits, which are the hallmark of this classic malt, will linger seductively in the background throughout.
Awards
Awards
Whisky Bible Awards 2011: Best Single Malt Scotch (41 years and over)
Customer Reviews
Reviews (5)
Reviews
5

Tasted like cat wee, which I am fond of, reminded me of my childhood.

5

Excellent rich taste. Simply brilliant.

3

Dropped it when it arrived, kids crying, the lot

5

Superb drink. Worth the money.

5

Fantastic
Disclaimer
Disclaimer
While we endeavour to provide full and accurate information on our website, there may be occasions where producers have updated their recipe or failed to provide full details of their ingredients and processes. This may affect factors including the product style and allergen information, and we would advise that you always check the label and not solely rely on the information presented here. If you are at all uncertain about a product then please contact our customer service team before purchase.
Good To Know
How we pack
Eco-friendly Packaging

Our boxes are made of 100% recyclable cardboard. Our special air-inflated packaging is both re-usable and recyclable, as well as efficient to both transport and dispose of.

Flexible Delivery Options

We deliver to countries all over the world! You can also select express delivery, or pick a specific delivery date, at checkout.

Packed With Care

Our experienced warehouse team take great care with every order. As specialists in glass packaging they ensure that your items stay safe and secure in transit.
14-Day returns policy
We want you to be 100% happy with your order and it is our aim to ensure that all products supplied to all customers arrive in perfect condition. You have the right to cancel your order at any time without being charged for the goods ordered within 14 days of purchasing (other than for perishable or personalised products or those products that have been specified as non-returnable).