Woodford Reserve Distiller's Select
Kentucky Straight Bourbon Whiskey
70cl / 43.2%
In Stock
Web Exclusive Price
£37.50
£31.25 ex VAT
(£53.57 per litre)
You must be aged 18 or above to buy alcohol in the UK
Estimated Delivery
Express delivery

(Choose a day)

From £6.95

Standard delivery

(2-4 Working Days)

From £4.95

Click & Collect

(Mon-Fri 10am - 5pm)

Free
Woodford Reserve is a superbly smooth, flavoursome bourbon, rich and full bodied with a sophisticated range of flavours. Excellent as a digestif after a rich meal.
Tasting Notes (2)
Crafting the perfect old fashioned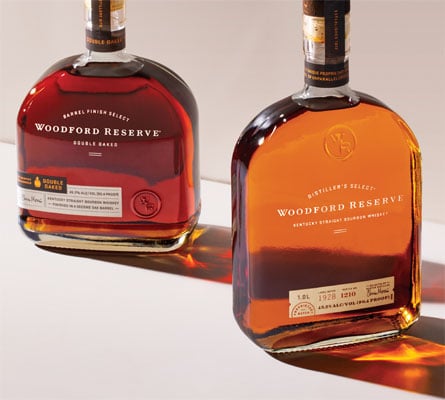 About Easy to make but more difficult to perfect, the Old Fashioned is a delicious mix of whiskey, bitters and a dash of sweetness. This cocktail might be more than 200 years old, but it's anything but stuffy.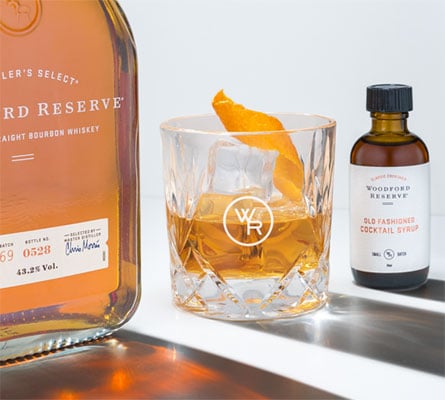 Method For best results, combine 10ml Old Fashioned Sugar Syrup with 50ml Woodford Reserve in a mixing beaker, add ice and stir slowly with a bar spoon for at least three minutes. Add fresh ice to your glass and strain your cocktail into it. Garnish with a twist of orange peel.
About the Old Fashioned
Adhering to the original definition of a cocktail (spirit, bitters, sugar and water) the Old Fashioned dates to 1800. What is incredible is how little it has changed over the intervening 200 years.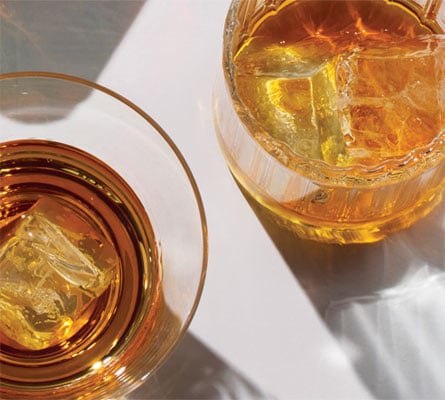 In its infancy, the drink went by the name 'Whiskey Cocktail' and was actually enjoyed in the morning, as cocktails were, to restore and act as an 'eye opener'. By 1840 it had gained cult status.
By the late 1800s bartenders were getting very experimental, but if their convoluted concoctions didn't appeal you called out for an Old-Fashioned Whiskey Cocktail.
As it evolved the drink did adopt a few changes, most prominently becoming served over ice. It was also no longer a quick, down-in-one morning pick-me-up, but rather a slow sipping cocktail.
Prohibition's 13-year interlude harmed the Old Fashioned, with chunks of fruit being mashed into the drink, maraschino cherries to garnish and then topping off the fruity mess with soda.
Thankfully a revival of the cocktail saved the traditional recipe and has ensured this charming, whiskey-rich drink has made it safely into the 21st century.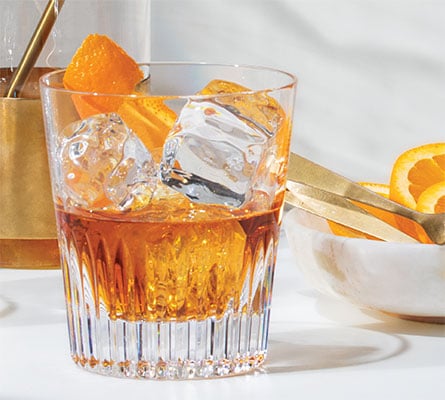 Learn More
Flavour Profile
Style
Body

Richness

Smoke

Sweetness
Character
Mint

Cinnamon

Apricot

Honey

Sultana

Brioche
Facts
Facts
Country

USA

Region

Kentucky

Colouring

No
Tasting Notes
Tasting Notes
Tasting Notes by Stuart P

Nose

Rich aromas of cinnamon and nutmeg, with fresh mint running underneath. Then cookie dough, brioche and honey, along with apricots and sultanas, a touch of vanilla and candied citrus peel.

Palate

Great balance between sweet fruit, toasty oak and warm spices. Juicy sultanas, cinnamon-dusted pastries and Demerara sugar, freshened up with mint and caraway seed. Deliciously soft mouthfeel.

Finish

The soft dried fruit and sweet spice linger in harmony.

Producer's Tasting Notes

Appearance

Clean, brilliant honey amber.

Nose

Heavy with rich dried fruit, hints of mint and oranges covered with a dusting of cocoa. Faint vanilla and tobacco spice.

Taste

Rich, chewy, rounded and smooth, with complex citrus, cinnamon and cocoa.Toffee, caramel, chocolate and spice notes abound.

Finish

Silky smooth, almost creamy at first with a long, warm satisfying tail.
Customer Reviews
Reviews (101)
Reviews
3

This is the second time that I drank Woodford Reserve (1.0L). I read all these reviews and that is why I gave it a second shot. Yes, it has a lot of taste, but as with any bourbon, contrary to good single malt whiskies, it always burns my mouth and tongue. Too much. Too too much. This burning sensation destroys every good element. No more bourbons for me

5

First bourbon trial for me. Had sifferent whiskies and cognacs. This feels like something between a whisky and a cognac (perhaps due to some sweetness but its nicely controlled). Love it. Good value for the money and I rather have this than any vsop cognac. After couple of sips your mouth is full of flavours that stay for long. Brilliant.

5

There is only one cocktail for me, the Whiskey Old Fashioned. There is only one bourbon for it, Woodford Reserve. I've tried them all, Wild Turkey, Beam, Bulleitt, Four Roses, Tin Cup, you name it. And although there's some 8/10, some 9/10, there's only one 10/10! Woodford.

5

It's a good balance & affordable Kentucky Straight Whiskey.

5

The spiciness surprised me, but it has a very full, very good flavor. Excellent value at its price point.
Disclaimer
Disclaimer
While we endeavour to provide full and accurate information on our website, there may be occasions where producers have updated their recipe or failed to provide full details of their ingredients and processes. This may affect factors including the product style and allergen information, and we would advise that you always check the label and not solely rely on the information presented here. If you are at all uncertain about a product then please contact our customer service team before purchase.
Good To Know
How we pack
Eco-friendly Packaging

Our boxes are made of 100% recyclable cardboard. Our special air-inflated packaging is both re-usable and recyclable, as well as efficient to both transport and dispose of.

Flexible Delivery Options

We deliver to countries all over the world! You can also select express delivery, or pick a specific delivery date, at checkout.

Packed With Care

Our experienced warehouse team take great care with every order. As specialists in glass packaging they ensure that your items stay safe and secure in transit.
14-Day returns policy
We want you to be 100% happy with your order and it is our aim to ensure that all products supplied to all customers arrive in perfect condition. You have the right to cancel your order at any time without being charged for the goods ordered within 14 days of purchasing (other than for perishable or personalised products or those products that have been specified as non-returnable).