Jose Cuervo 250th Aniversario
75cl / 40%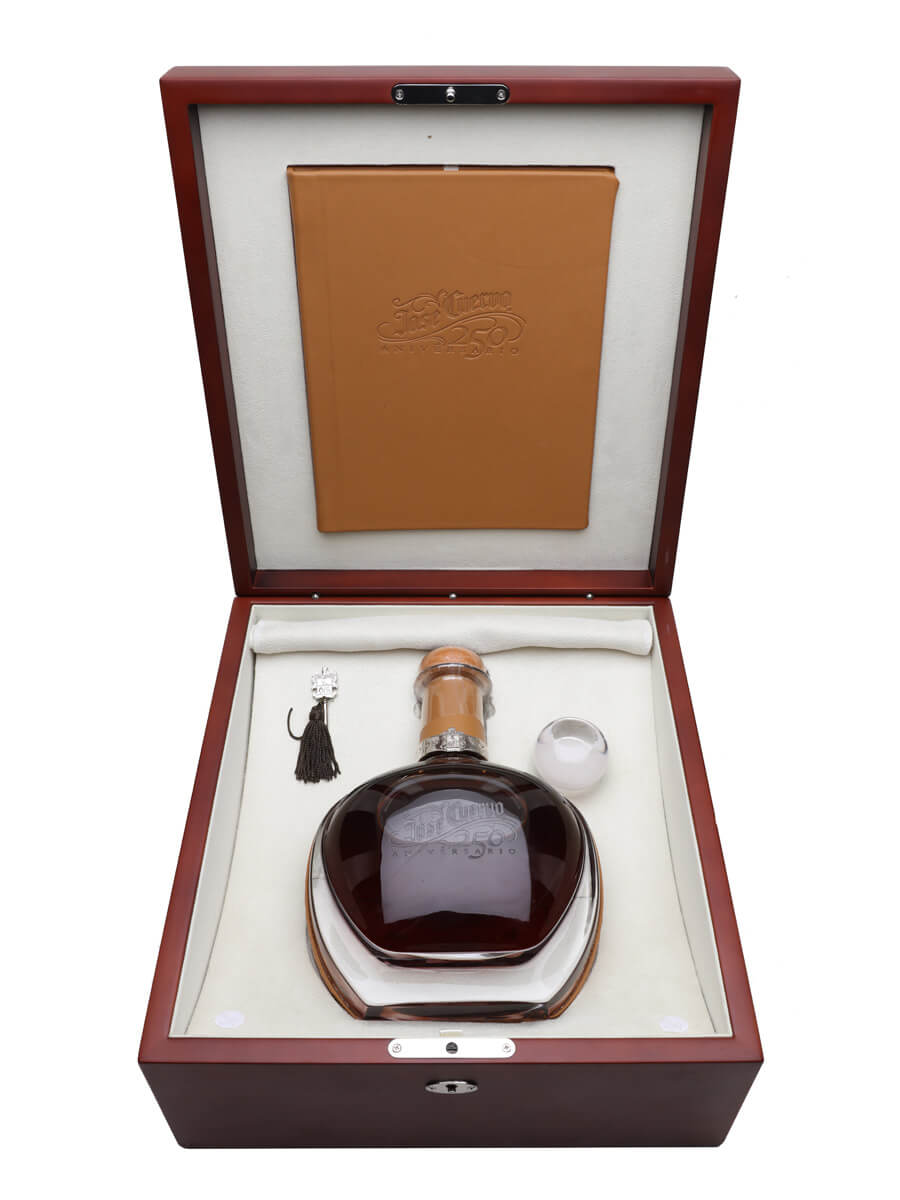 You must be aged 18 or above to buy alcohol in the UK
Not Available
This product is currently out of stock
Enter your email address below to be notified when this product is available.
A limited edition super premium tequila from Jose Cuervo, released a few years ago to celebrate the 250th anniversary of King Carlos of Spain granting Don Jose Antonio de Cuervo the first patch of land on which to cultivate agave in 1758. Produced from 100% blue agave grown on the original land granted and then aged for a minimum of three years in ex-bourbon casks before a final 10 months in sherry casks. They're each individually numbered and come in a glass stoppered decanter packaged in a solid oak gift box.
Customer Reviews
Reviews (3)
Reviews
5

Upon pour, I was immediately drawn to the majestic golden hue and a mature aroma balanced with gentle hints of sherry and sweet, cooked agave. The taste was an enthralling mix of vanilla flavors layered with caramel and chocolate undertones and it's finish was a seduction of lingering vanilla impressions and a hint of oak for a warm, sensuous finish.

5

I am in Cabo San Lucas, and just had an amazing meal at Edith's. As good astuff the meal was, the aftereal dinner standard pour of the Cuervo 250th anniversary tequila was more impressive. The flavor was subtle, as you might expect for such remarkable (and long aged) tequila. Surprisingly, this still had the gentle notes of blue agava, a sweetness, and the nose was a heady rush of carmel. It was an almost spiritual experience, understanding that some of the blend was over 100 years old. Life is short, and you get one shot. Enjoy a pour of this special tequila, as soon as you can. As I tell everyone, drink the good stuff first.

5

Beautiful
Disclaimer
Disclaimer
While we endeavour to provide full and accurate information on our website, there may be occasions where producers have updated their recipe or failed to provide full details of their ingredients and processes. This may affect factors including the product style and allergen information, and we would advise that you always check the label and not solely rely on the information presented here. If you are at all uncertain about a product then please contact our customer service team before purchase.
Good To Know
How we pack
Eco-friendly Packaging

Our boxes are made of 100% recyclable cardboard and our protective honeycomb paper wrap keeps your package safe and significantly reduces our need for plastic.

Flexible Delivery Options

We deliver to countries all over the world! You can also select express delivery, or pick a specific delivery date, at checkout.

Packed With Care

Our experienced warehouse team take great care with every order. As specialists in glass packaging they ensure that your items stay safe and secure in transit.
14-Day returns policy
We want you to be 100% happy with your order and it is our aim to ensure that all products supplied to all customers arrive in perfect condition. You have the right to cancel your order at any time without being charged for the goods ordered within 14 days of purchasing (other than for perishable or personalised products or those products that have been specified as non-returnable).