Tomatin 1975
43 Year Old Warehouse 6 Collection
Highland Single Malt Scotch Whisky
Distillery Bottling
70cl / 46.5%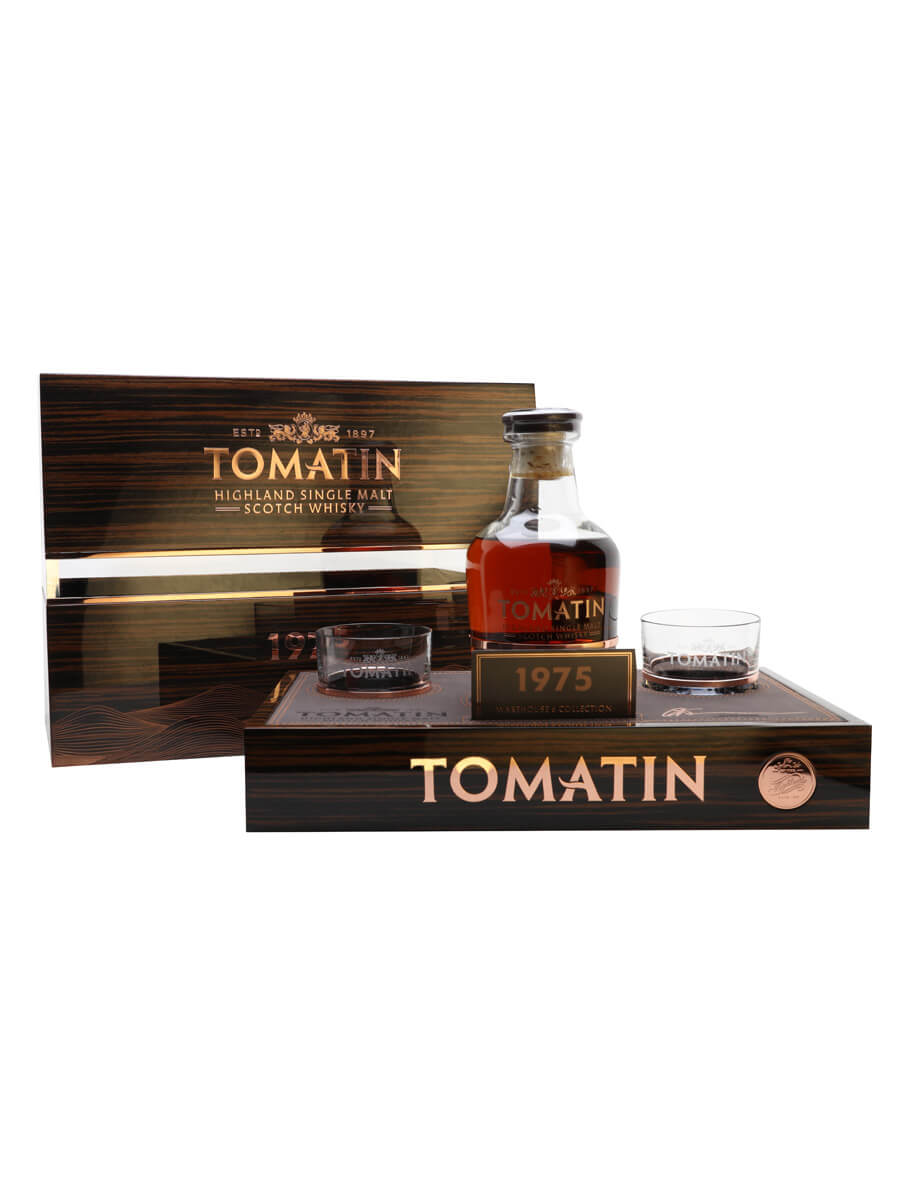 FREE UK Mainland standard delivery
In Stock
£2,350
£1,958.33 ex VAT
(£3,357.14 per litre)
Estimated Delivery
Express delivery

(Choose a day)

From £6.95

Standard delivery

(UK Mainland)

Free

Click & Collect

(Mon-Fri 10am - 5pm)

Free
Matured in an ex-oloroso sherry butt for more than four decades, this 1975-vintage Tomatin is the third whisky in Warehouse 6 Collection. This limited-edition single malt has a fruity, spicy character, with notes of tropical fruits, raisins and dark chocolate mingling with rich spices that blend gently into a long, elegant finish.
This whisky is presented in a Glencairn crystal decanter, with a solid copper stopper and a pair of glasses – each with a band of copper – as well as a specially designed wooden case to house it in.
Tomatin 1975
43 Year Old Warehouse 6 Collection
Facts
Facts
Bottler

Distillery Bottling

Series

Warehouse 6 Collection

Age

Vintage

Bottling Date

January 2019

No of Bottles

300

Country

Scotland

Region

Highland

Cask Type

Oloroso Sherry Hogshead
Good To Know
How we pack
Eco-friendly Packaging

Our boxes are made of 100% recyclable cardboard. Our special polystyrene packing chips and even our plastic bubble wrap are made from recyclable materials.

Flexible Delivery Options

We deliver to countries all over the world – including Christmas Island! You can also select express delivery, or pick a specific delivery date, at checkout.

Packed With Care

Our experienced warehouse team take great care with every order. As specialists in glass packaging they ensure that your items stay safe and secure in transit.

14-Day returns policy
We want you to be 100% happy with your order and it is our aim to ensure that all products supplied to all customers arrive in perfect condition. You have the right to cancel your order at any time without being charged for the goods ordered within 14 days of purchasing (other than for perishable or personalised products or those products that have been specified as non-returnable).