Chichibu 2014
Beer Cask Exclusive To The Whisky Exchange
Japanese Single Malt Whisky
70cl / 59.5%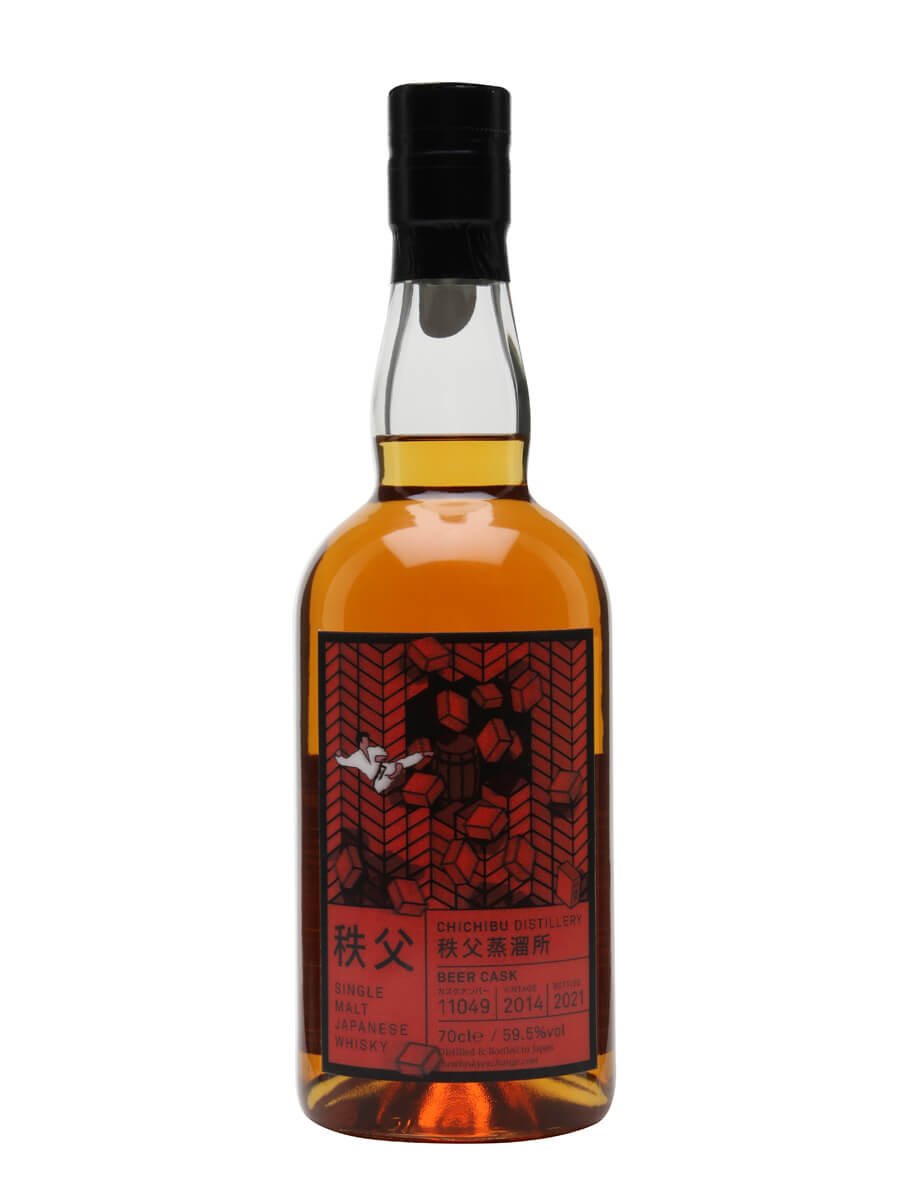 You must be aged 18 or above to buy alcohol in the UK
Not Available
This product is currently out of stock
Enter your email address below to be notified when this product is available.


View All Samples
A single-beer-cask-matured whisky from Japanese boutique distiller Chichibu, selected by and bottled exclusively for The Whisky Exchange. The cask was previously used to mature Shiga-Kogen brewery's The Far East, a huge triple ipa packed with fruity hoppy flavour, some of which has come through into the whisky. The result is an intensely flavoured and complex whisky that's a suitable final entry in the Chichibu Martial Arts trilogy.
Tasting Notes (1)
Chichibu Martial Arts Trilogy
This release of three single-cask Chichibu whiskies – with three-dimensional lenticular labels designed by Elixir Distillers creative director Raj 'MrC' Chavda – celebrates Japanese martial arts and the great whisky being made at Chichibu. The very limited series consists of 2014-vintage beer and chibidaru casks, and a 2015-vintage ex-bourbon cask.
Facts
Facts
Vintage

Bottling Date

2021

No of Bottles

261

Country

Japan

Cask Type

Beer

Cask Number

11049
Tasting Notes
Tasting Notes
Billy Abbott, The Whisky Exchange

Nose

Piles of fruit and grain. Granola and porridge piled high with mango, papaya, guava, pineapple and sultanas, all dried and rehydrating in the creaminess. Chocolate milk and rich milk chocolate develop, along with more savoury dark grains and leafy hints – very green. Butter toffee pokes in around the sides along with a slice of Millionaire's Shortbread.

Palate

A huge burst of fruity hops leads the charge: big green leafiness and layers of mango, pineapple, sharp white grape and bitter green leaves, all backed up by a hoppy medicinalness – like licking a handful of hop pellets. That fades through dusky hoppy spice to more familiar flavours: green grass, stewed apple, meadow flowers and crisp, sweet pastry, although all with a leafy, hoppy background.

Finish

Medicinal hops linger, with dried and fresh pineapple fading to spice and green grass.
More from Chichibu
Disclaimer
Disclaimer
While we endeavour to provide full and accurate information on our website, there may be occasions where producers have updated their recipe or failed to provide full details of their ingredients and processes. This may affect factors including the product style and allergen information, and we would advise that you always check the label and not solely rely on the information presented here. If you are at all uncertain about a product then please contact our customer service team before purchase.
Good To Know
How we pack
Eco-friendly Packaging

Our boxes are made of 100% recyclable cardboard. Our special air-inflated packaging is both re-usable and recyclable, as well as efficient to both transport and dispose of.

Flexible Delivery Options

We deliver to countries all over the world! You can also select express delivery, or pick a specific delivery date, at checkout.

Packed With Care

Our experienced warehouse team take great care with every order. As specialists in glass packaging they ensure that your items stay safe and secure in transit.
14-Day returns policy
We want you to be 100% happy with your order and it is our aim to ensure that all products supplied to all customers arrive in perfect condition. You have the right to cancel your order at any time without being charged for the goods ordered within 14 days of purchasing (other than for perishable or personalised products or those products that have been specified as non-returnable).