Bracing and crisp
Vodka and Gin
A twist on the classic Martini, as invented by writer Ian Fleming in his first James Bond book, Casino Royale.
How To Make It
Prep time:

7 minutes

Serves:

1

Skill:

Easy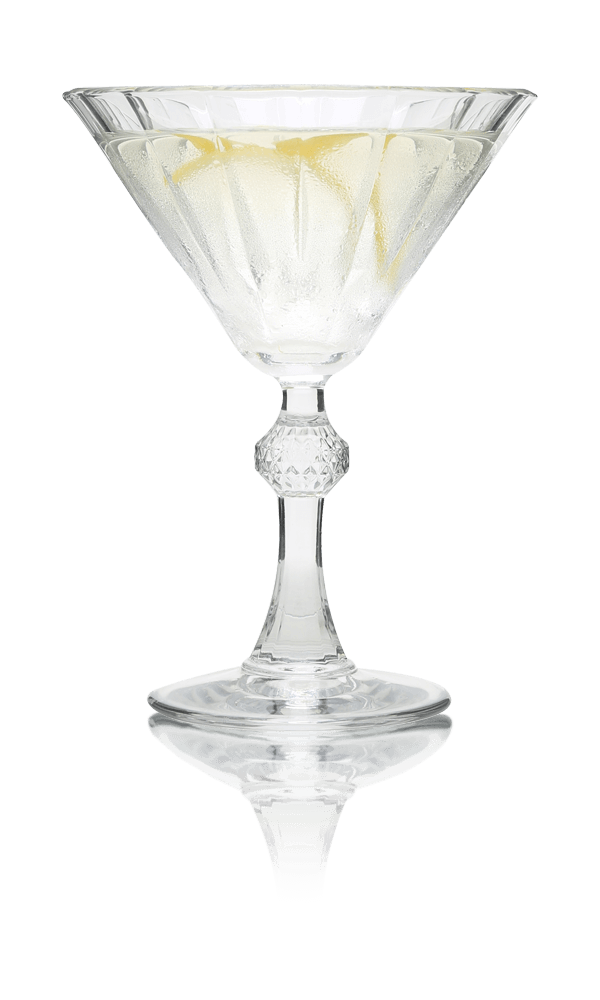 Ingredients
60ml gin
20ml vodka
10ml Cocchi Americano
Cubed ice
lemon twist
Equipment
cocktail stirring glass
julep strainer
Martini glass
bar spoon
Method
Pour the gin, vodka and Cocchi into the chilled stirring glass.
Fill the stirring glass with ice.
Stir until 'it's ice cold'.
Strain into the chilled Martini glass.
Garnish with a large thin slice of lemon peel. Got it?
Did you know?
The original recipe appears in Ian Fleming's Casino Royale, with Bond ordering a dry Martini before changing his mind: "Just a moment. Three measures of Gordon's, one of vodka, half a measure of Kina Lillet. Shake it very well until it's ice-cold, then add a large thin slice of lemon peel. Got it?". Kina Lillet is no longer available, so we've substituted in Cocchi Americano, the closest we've found to it. We've also gone for Tanqueray gin, Gordon's big brother, and opted for a stirred drink – a great writer he might have been, but we like this version of the drink better than his.
Make this Cocktail
Choose your products
Drinks
Tanqueray No.10 Gin

A super-premium small-batch Tanqueray gin named after the No.10 still in which it is made. A superbly controlled explosion of botanical flavours, with much more citrus character than its Export Strength cousin.

£34.45

Ketel One Vodka

A meticulously crafted vodka from a Dutch distillery that has remained a family business for 10 generations since 1691. Introduced in the UK in 1999 after massive US success.

£24.95

Aperitivo Cocchi Americano

Sending the UK cocktail fraternity into a frenzy of anticipation, the famed Cocchi Americano has finally hit these shores. It's acclaimed as the most credible alternative to the long-discontinued Kina Lillet due to its high levels of cinchona, the fiercely bitter bark used to make quinine. This makes Cocchi Americano essential in recreating James Bond's Vesper Martini and the legendary Corpse Reviver #2 from The Savoy Cocktail Book. A big and orangey aperitif, in a similar style to Lillet Blan

£23.95
Equipment
Mixing Glass w/ Spout (21oz)

A high quality mixing glass, complete with a small jug like spout on the lip to aid in pouring.

£6.45

Recommended

Cocktail Elephant Biwa Lake / Large Mixing Glass

A large-sized mixing glass from multi-award-winning German glass producer Eisch. This is the version with diagonal lines.

£44.95

Julep Strainer

Like a flat miniature colander. Perfect for all your julep-straining needs.

£3.95

Bonzer Bar Spoon 10"

A solid Bonzer spoon with disc on the end and a spiral shaft - perfect for layering cocktails.

£12.25
Glasses
Fluted Stem Martini Glass 6.5oz (18.5cl)

A double-sized Martini glass, which holds 19cl of the eponymous cocktail.

£11.25