A blackberry treat
Gin
Sweet berries are balanced out in this refreshing gin and citrus based concoction
How To Make It
Prep time:

5 minutes

Serves:

1

Skill:

Easy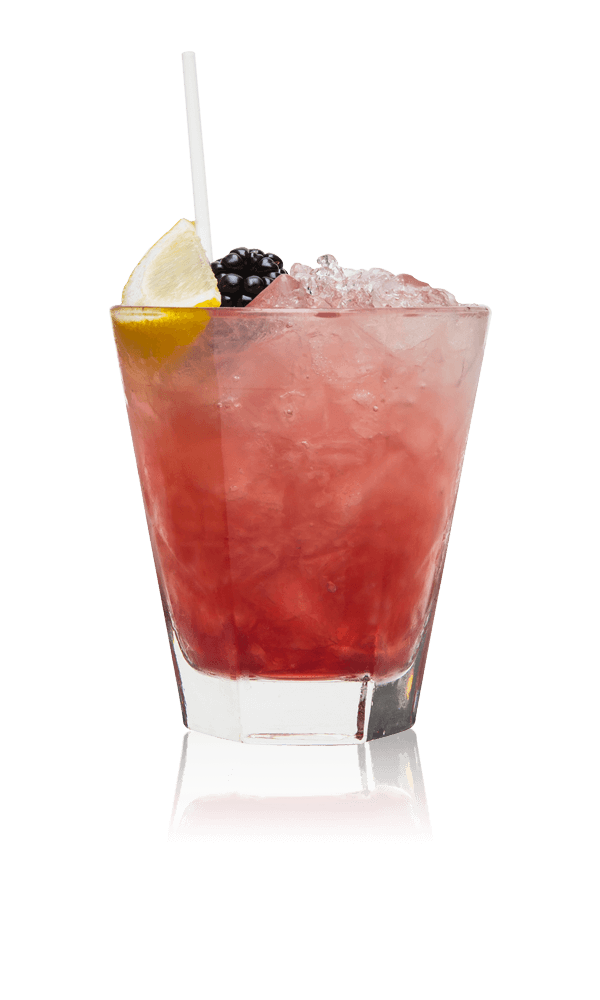 Ingredients
50ml gin
20ml freshly squeezed lemon juice
12.5ml crème de mûre (blackberry liqueur)
10ml sugar syrup / gomme
cubed ice (for shaking)
crushed ice (for serving)
1 blackberry
1 slice of lemon
Equipment
cocktail shaker
hawthorne strainer
rocks glass
Method
Pour the gin, lemon juice and sugar syrup into one half of your cocktail shaker.
Fill the shaker with ice.
Cover and shake well until thoroughly chilled.
Strain into a glass filled with crushed ice.
Top with more crushed ice.
Slowly drizzle the crème de mûre on the top, allowing it to 'bleed' down through the drink.
Garnish with a lemon slice and blackberry.
Did you know?
The Bramble is one of the better drinks to come out of the 1980s and was invented by Dick Bradsell (of Espresso Martini fame) whilst working in the now-closed Fred's members bar in Soho, London. While crème de mûre is a blackberry liqueur, the cocktail is traditionally garnished with a raspberry, as when it was invented Bradsell didn't have any blackberries. It's easier to buy fruit in Soho now than it was in the 1980s, so we've gone for a blackberry.
Make this Cocktail
Choose your products
Drinks
Star of Bombay Gin

Star of Bombay is a higher-strength, super-premium variant of Bombay Sapphire. The classic notes of juniper, angelica and coriander have been intensified, with the addition of bergamot and ambrette seeds offering extra exoticness. A rich and intense gin.

£36.95

Briottet Creme de Mure (Blackberry) Liqueur

High-quality blackberry liqueur from French artisan producer. All the Briottet range have proper 'real' fruit flavour integrity - they taste like the fruit itself, not some confected approximation. Highly recommended.

£20.45

Monin Gomme Syrup

The industry standard cocktail sweetener across the UK bar trade, Monin's gum arabic syrup is lightened by a trace of orange blossom. Essential for all manner of sours, daiquiris and just about any cocktail containing lemon or lime juice.

£4.95
Equipment
Standard 2 Piece Cocktail Shaker / 28.25oz (80cl)

A 2 piece cocktail shaker - perfect for making cocktails at home.

£21.75

Rose Gold Hawthorne Strainer

A hawthorn strainer in rose gold, for use with the boston shaker when making cocktails.

£17.99
Glasses
Carre Tumbler Old Fashioned / 28cl (9.75oz)

A sleek Carre tumbler that would be perfect to hold an Old Fashioned.

£6.75