WIN

A BOTTLE OF

PORT ASKAIG
45 YEAR OLD

PORT ASKAIG PRIZE DRAW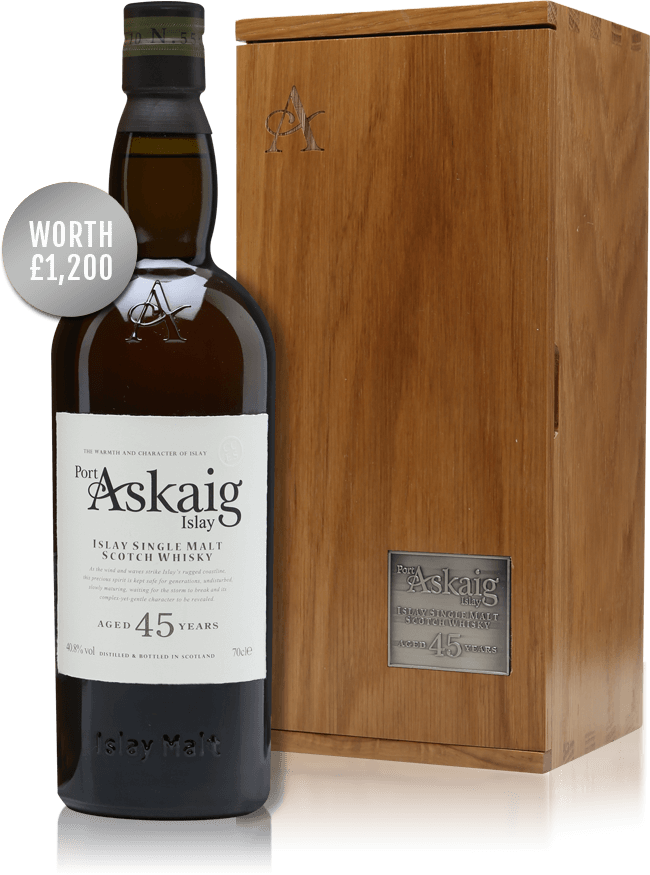 Simply BUY A BOTTLE of
Port Askaig 100° Proof
and you will be entered
into our prize draw.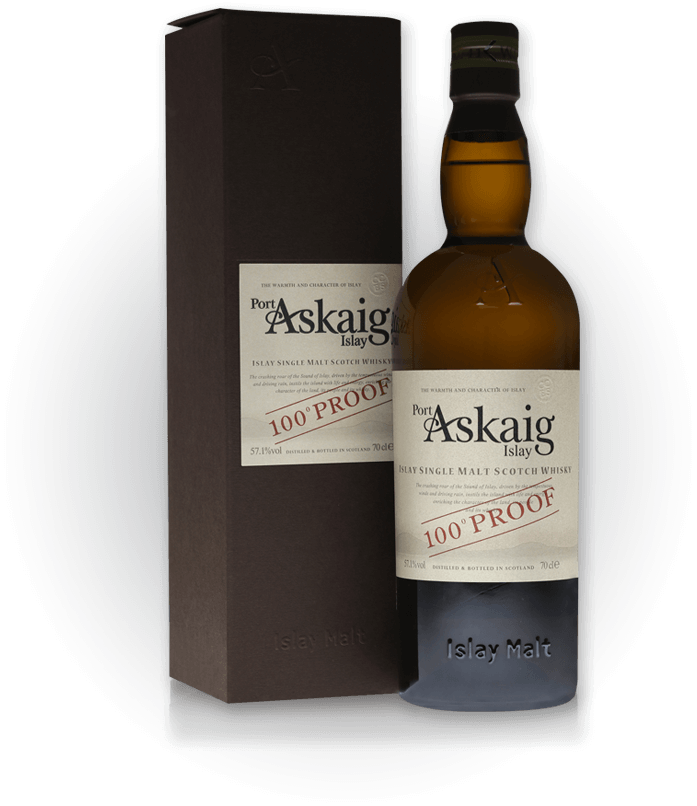 Buy Now

►
Engrave this bottle

►
Launched in 2015, 100° Proof is the first ongoing release from Speciality Drinks' Port Askaig range. A single malt from an undisclosed distillery, this a superb everyday drinking Islay whisky. Showing notes of sweet fruit, peat smoke and spice, this offers excellent value for money.

PRODUCER'S
TASTING NOTES
Nose Rich, with a meaty smokiness that belies its light colour. Freshly cooked ham and burning logs are joined by a soft coastal character of sea spray and stony rock pools.
Palate Sharp and stony initially, with an intense minerality that quickly becomes sweet and rich – milky coffee, milk chocolate and spicy cinnamon gobstoppers. The spice grows, adding liquorice and stewed apple with cinnamon, along with heavy charcoal smoke.
Finish Sweet, spicy and very long. Cinnamon-spiced chocolate slowly fades to drying apple skin.
Comment More powerful than you might expect, with carefully balanced smoke and fruit.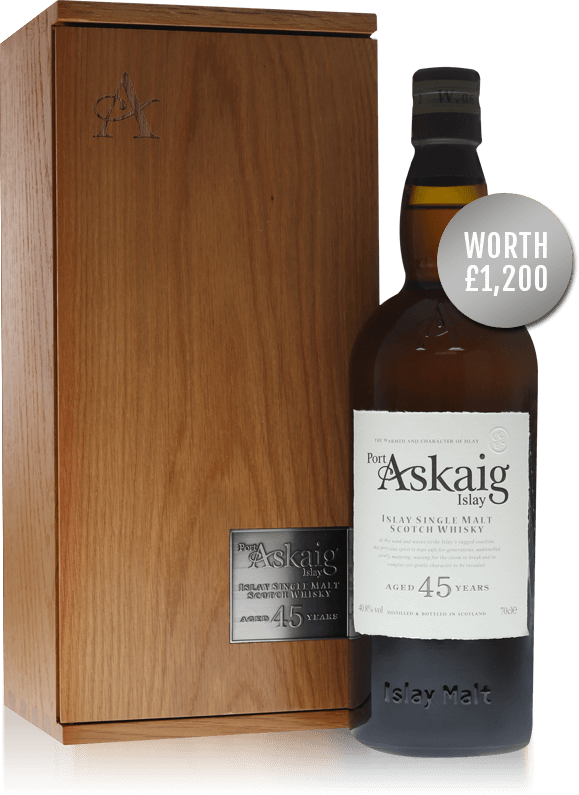 THE PRIZE
PORT ASKAIG
45 YEAR OLD
40.8% | 70cl
It's rare to see an Islay whisky at this age, so when they do appear, it's a real treat. This is a vatting of five sherry butts distilled at a mystery distillery in 1968 and aged for more than four decades before being married together for the final year. This offers a sumptuous mix of ripe fruit and herbal flavours with refreshing minerality. Sherry-cask-matured Islay whisky rarely disappoints and this is no exception.
'It's really lovely, complex…we can feel this oldie was bottled at the right time…the light honey and the light fruits still manage to balance the white pepper, tea and cinnamon from the casks.'
Review from Serge Valentin, Whiskyfun

PRODUCER'S
TASTING NOTES
Nose Even before you taste this, your senses are filled with full, thick, ripe fruit and heavy, sweet, sticky nectar. A touch of menthol gives a clue to the long ageing of this whisky.
Palate Rich Navel oranges and fleshy mango sit on a thick and warming palate, with flavours reminiscent of green tea, mint leaves and tropical fruit. The flavours are incredibly well balanced with elegance and poise.
Finish Clean and long with carefully balanced minerality.
TERMS & CONDITIONS
entrants must be legally allowed to purchase alcohol in their country of residence to enter
one entry per person
only purchases from The Whisky Exchange website are eligible
purchases of the following product will be eligible for entry into the draw:
eligible purchases made between 16 May 2016 and 11.59pm BST on 27 June 2016 will be entered into the draw
one entrant will win a bottle of Port Askaig 45 Year Old
the winner will be notified after 27 June 2016
no alternative prizes are available
for full TWE terms and conditions, please click here
Other terms and conditions may apply.
Promoter: The Whisky Exchange, Elixir House, London NW10 7SF.