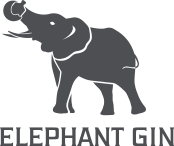 London Dry Gin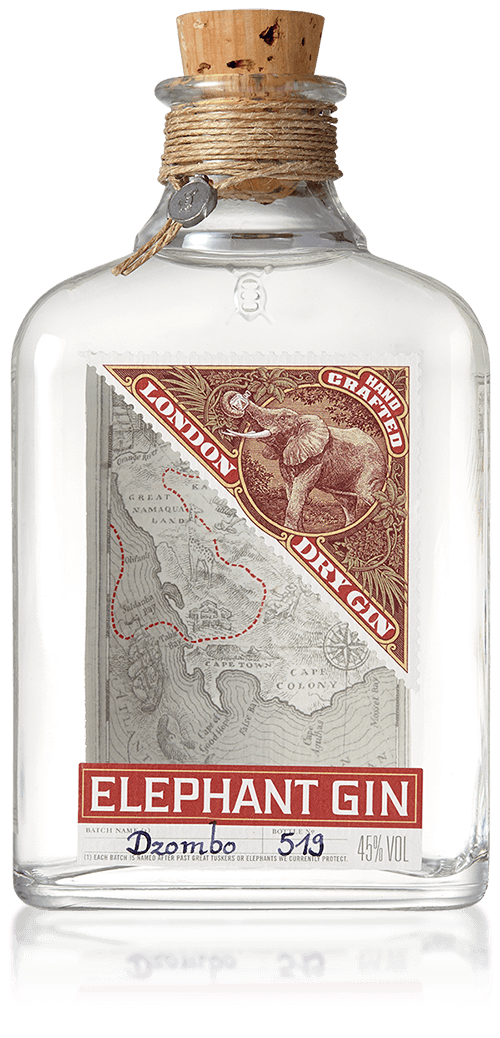 An African-themed gin, Elephant was inspired by the creators reminiscing about 'sundowner' cocktails, a tradition in South Africa. The gin combines African botanicals with traditional juniper and orange peel, resulting in a spirit that's floral, fruity, spicy and herbaceous.
This is a versatile gin that can be enjoyed neat, with tonic, or in a range of cocktails including a classic Martini or Tom Collins.
Producer's
Tasting Notes
The gin's nose yields a subtle juniper aroma with an undertone of mountain pine and other herbaceous notes.
The taste is complex but strikingly smooth, encompassing floral, fruity and spicy flavours which can be enjoyed both straight and in a cocktail.
Botanicals
Many of the 14 botanicals are sourced from Africa, and combine to make a complex and rounded gin.



juniper (Europe) – sourced from Macedonia, Hungary and Tuscany
mountain pine needles (Austria) – combines well with juniper
lavender – sweetness and floral notes
orange peel (Spain) – sweet and aromatic
apple (Germany) – freshly picked from the distillery's orchards
cassia bark (Indonesia) – related to cinnamon, warm and aromatic
ginger (China) – warm and spicy
pimento berries (Mexico) – peppery notes
devil's claw (South Africa) – for aromatics and bitterness
buchu (South Africa) – reminiscent of blackcurrants
elderflower (Ukraine and Poland) – sweetness complementing the apple
lion's tail (South Africa) – medicinal herb used throughout Africa
African wormwood (South Africa) – introduces bitter floral notes
baobab (Malawi) – superfruit with three times the Vitamin C of an orange

About
Founded by Robin and Tessa Gerlach and produced in the former East German state of Mecklenburg-Vorpommern, Elephant Gin is made of batches of no more than 700 bottles. The botanicals are hand selected, macerated for a day to extract the maximum amount of flavour and then distilled in a copper still. A sloe gin was added to the range in December 2015.
From the sale of the first bottle in September 2013, the company has been donating 15% of the profits to two elephant charities: Space for Elephants Foundation (South Africa) and Big Life Foundation (Kenya and Tanzania), allowing them to give something back to the inspiration behind the gin.


19 Customer Reviews
My absolute favorite gin! The botanicals used give it a unique flavor that just cannot be beat.

Fantastic gin, fantastic cause!

One of the best Gin's for a classic Martini. Strong, smooth and layers of flavour with complexity

Really nice gin and love that 15% of profits go to elephant charities

My Favorite Gin! I tried a lot but this one is really good, it has a lovely smooth taste and i am enjoying every sip every time - just awesome

Superb neat drink. Don't think of mixing it!

what a great gin!

A superb gin. Wonderful with a splash of tonic, a slice of orange and some sliced fresh cranberries.

Complex. My favourite after Monkey 47.

Had this few times at Gin 71 Glasgow with tonic and garnished with cinnamon stick, superb!

Just my favorite! To drink with ginger!!

This gin is best drank with ice and a slice of lime, no mixers. perfect

Fantastic gin, i normally drink Sipsmith but i think the combination of botanicals gives this a unique taste, wonderful with apple.

Really love that they are using apples. Amazing martini

Would happily drink this neat it is so good, definitely worth the extra pennies.

Exceptional quality and history. Unique product well done.

Exceptional quality. It compares to everyday gins as the best speyside malts compare to everyday whiskies - in other words it is wonderfully smooth and complex with an extraordinary variety of hints and aromas, subtle and beautifully made. My first bottle was a pleasure and I am back for more.

A really exciting new gin, not only does it have a great taste I enjoy the whole story that comes with it.

Really lovely gin, such a distinct taste of botanicals, but that all work together to produce a very smooth gin. I new favourite already, highly recommended.