21

Year Old

Speyside Single Malt Scotch Whisky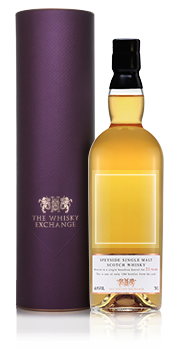 Limited Edition
Out of stock
About The Whisky
This 21 Year Old single malt from Imperial has been matured in a single bourbon barrel for over two decades, creating a sweet, floral character.
Tasting Notes
Billy Abbott, The Whisky Exchange

Nose

Grassy meadows, sultanas and crisp apples. Candy bracelets develop, along with barley sugar, orchard fruits and sugared almonds. There's a background of lemon zest with a pinch of orange for good measure.

Palate

Sweet at first, with the grassy notes from the nose balanced by creamy touches, sweet apples and a little bit of syrup. Mint fondant hints pair with almonds, gentle oak and freshly snapped Garibaldi biscuits.

Finish

The meadows are back, fading to leave sweet baking spices.

Comment

An old-fashioned style of whisky, sweet and spring-meadow-tinged, with notes of almond and apple, and a hint of mint.
Style
Body

Richness

Smoke

Sweetness
Character
Violet

Grass

Lemon

Apple

Almond

Sultana
Reviews
5

It came out beautifully