Vecchia Romagna 200 Year Riserva Anniversario
70cl / 48%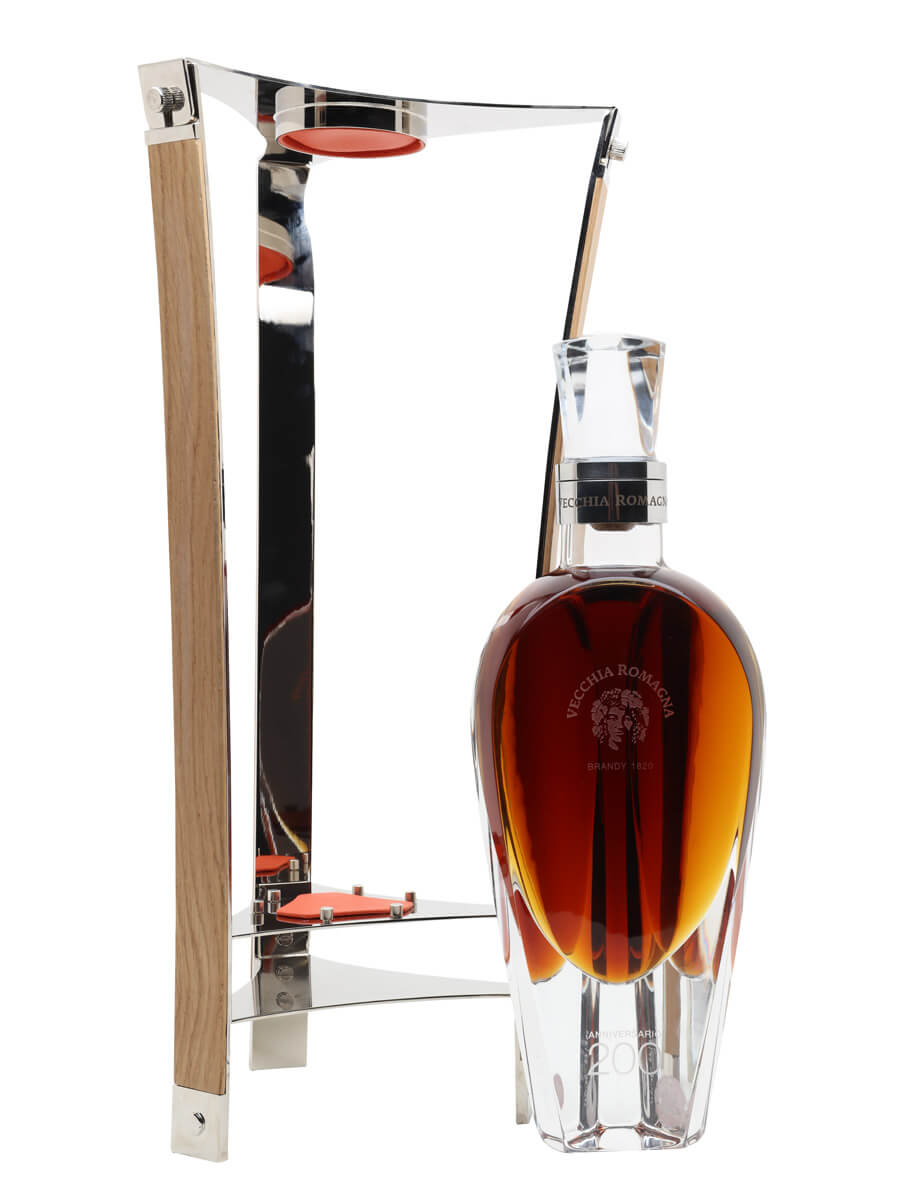 You must be aged 18 or above to buy alcohol in the UK
Not Available
This product is currently out of stock
Enter your email address below to be notified when this product is available.
As the name suggests, this brandy has been bottled to celebrate Vecchia Romagna's 200th anniversary. As befits such as special occasion, this is a blend of grape brandies aged between 23 and 67 years in oak, and is housed in a decanter made by Murano-based glassblowers Salviati. Not only have only 200 of these beautiful bottles been produced (pleasingly, we think they look like upside-down copitas) but each one is also housed in a striking leather case.
Vecchia Romagna's celebratory blend has complex notes of dried and preserved fruits, baking spices, balsamic and coffee.
Tasting Notes (1)
Facts
Facts
No of Bottles

200

Country

Italy

Type

Grape Brandy
Tasting Notes
Tasting Notes
The Producer

Nose

Intense and complex. It highlights the ethereal and fragrant notes of fruit preserved in alcohol - including cherries, plums, raisins and red fruits - but also of ripe orange peel and dehydrated tropical fruit. Rich in tropical spices such as cinnamon that meld with notes of tobacco and toasted French and Slavonian oak

Palate

The initial sweetness of dehydrated fruit or fruit preserved in alcohol - such as apricot, pineapple and mango - gives way to very intense spicy notes of allspice and cloves, as well as balsamic notes of cardamom and coriander. More complex and structured notes marry well with the roasted and slightly smoky notes of coffee for a long finish. Pleasant sensations of astringency and bitterness leave the palate clean and with a desire to go back for another sip.
Disclaimer
Disclaimer
While we endeavour to provide full and accurate information on our website, there may be occasions where producers have updated their recipe or failed to provide full details of their ingredients and processes. This may affect factors including the product style and allergen information, and we would advise that you always check the label and not solely rely on the information presented here. If you are at all uncertain about a product then please contact our customer service team before purchase.
Good To Know
How we pack
Eco-friendly Packaging

Our boxes are made of 100% recyclable cardboard and our protective honeycomb paper wrap keeps your package safe and significantly reduces our need for plastic.

Flexible Delivery Options

We deliver to countries all over the world! You can also select express delivery, or pick a specific delivery date, at checkout.

Packed With Care

Our experienced warehouse team take great care with every order. As specialists in glass packaging they ensure that your items stay safe and secure in transit.
14-Day returns policy
We want you to be 100% happy with your order and it is our aim to ensure that all products supplied to all customers arrive in perfect condition. You have the right to cancel your order at any time without being charged for the goods ordered within 14 days of purchasing (other than for perishable or personalised products or those products that have been specified as non-returnable).