TWE Exclusive
MILLSTONE RYE
10 Year Old
70cl / 58.6% ABV
only 245 bottles In our constant search to find the greatest whiskies from around the world, we have at last reached the Netherlands. Zuidam has been producing spirits since 1975, and for the past decade they've been applying their know-how to whisky.
Spicy and rich like the best American ryes, this Whisky Exchange exclusive Dutch whisky is distinctly different and was a must-have as soon as we tried it. It's only made with rye and has been matured for a decade in American oak, producing a unique and flavoursome whisky.

Tasting Notes
Nose:
Rich and sweet to start, reminiscent of cola bottles and vanilla panna cotta. Dry, sweet, spicy and citrus notes dominate, with rye toast, salted caramel, nutmeg and kaffir lime leaves.
Palate:
Maple syrup and orange zest. It sweetens as it develops in the glass, with toffee apples, barley sugar, clove and caraway leading to a soft and lingering finish of sliced apple and cinnamon toast.
Nose:
Cinder toffee and honey, with a savoury rye sourdough note. Sharp orange zest is accompanied by maple syrup, nutmeg, salted butter and freshly milled rye.
Palate:
Big oaky flavours, with green twigs, polished tables and freshly cut boards. Lots of woody spice, with cinnamon and nutmeg joined by clove-studded oranges, dark chocolate and singed oak.
Finish:
The boozy fruit and rich spices fight it out.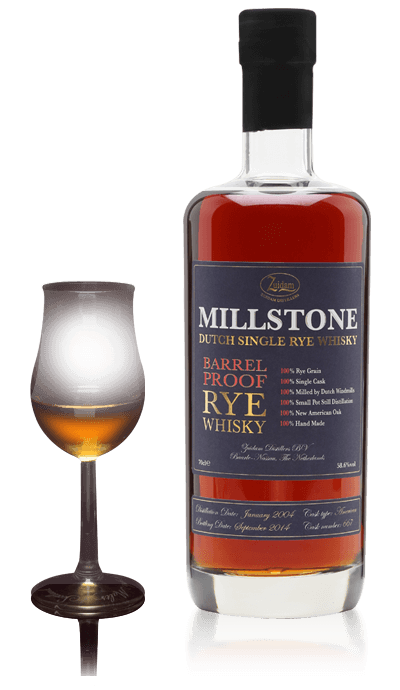 4 Customer Reviews
Seriously good rye - every bit as good if not better than many American offerings.

Brilliant stuff, possibly the best Rye I''ve tasted so far

Excellent bottle from the Netherlands, a quiet distillery for the average drinker but everyone will hear about it soon, Millstone have produced a prize winner.

Love this whisky, its a must have for people who enjoy something special; no smoke but lovely sweet and spicy. Different then most Rye''s. Allways have a spare bottle at home!
Sweet Manhattan
Ingredients:
Method:
Stir all the ingredients with ice until chilled, strain into a Martini glass and serve with a maraschino cherry. Alternatively, strain into a rocks glass with a big chunk of ice, garnishing with an orange twist.
About Zuidam
Founded in 1974 as a traditional Dutch family distiller, producing liqueurs and genever, Zuidam has gained a reputation for making excellent drinks. This experience and a love of experimentation led to their first whiskies being released in 2007. Initially released at 5 years old, the 2002 vintage has continued to develop, with the range now expanded to include 10- and 12-year-old whiskies.