A Fine Christmas Malt 2021
16 Year Old
Highland Single Malt Scotch Whisky
70cl / 53.2%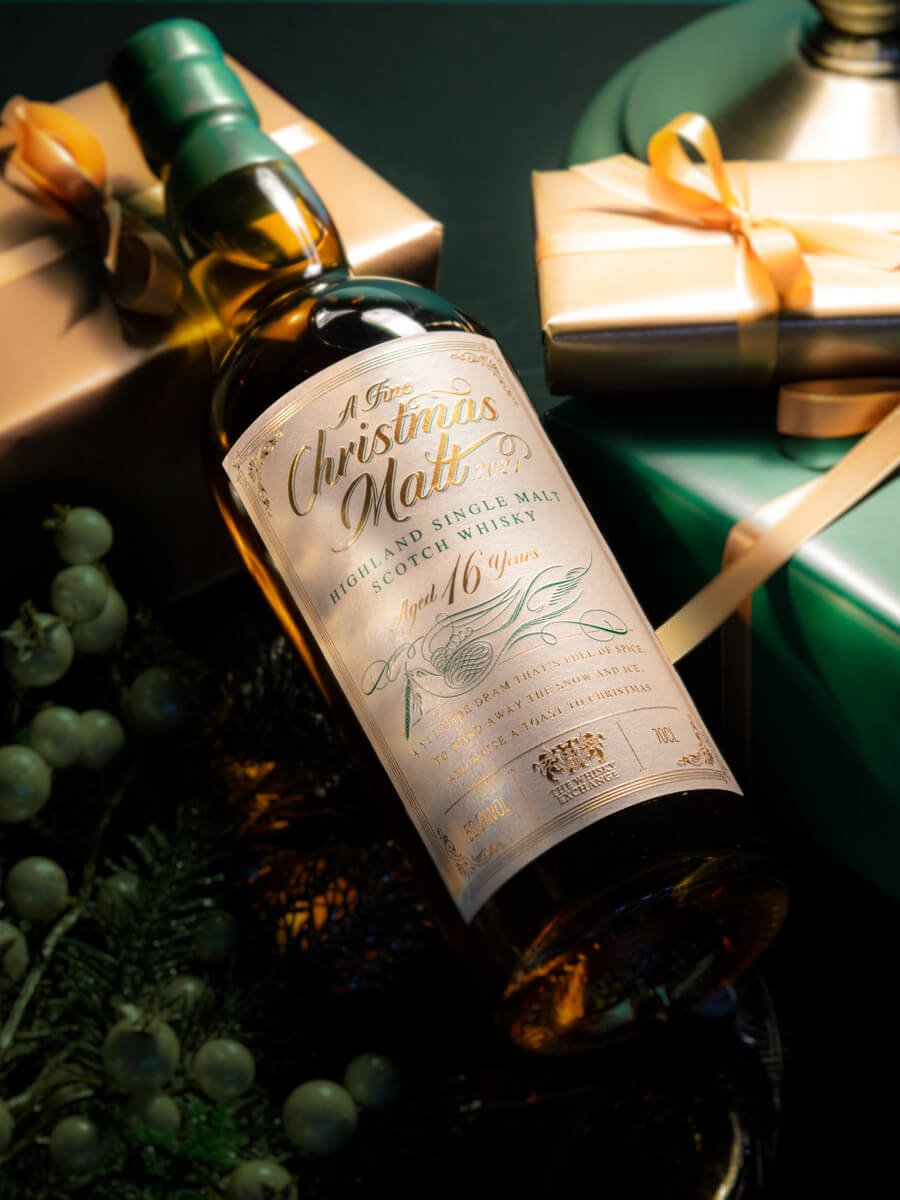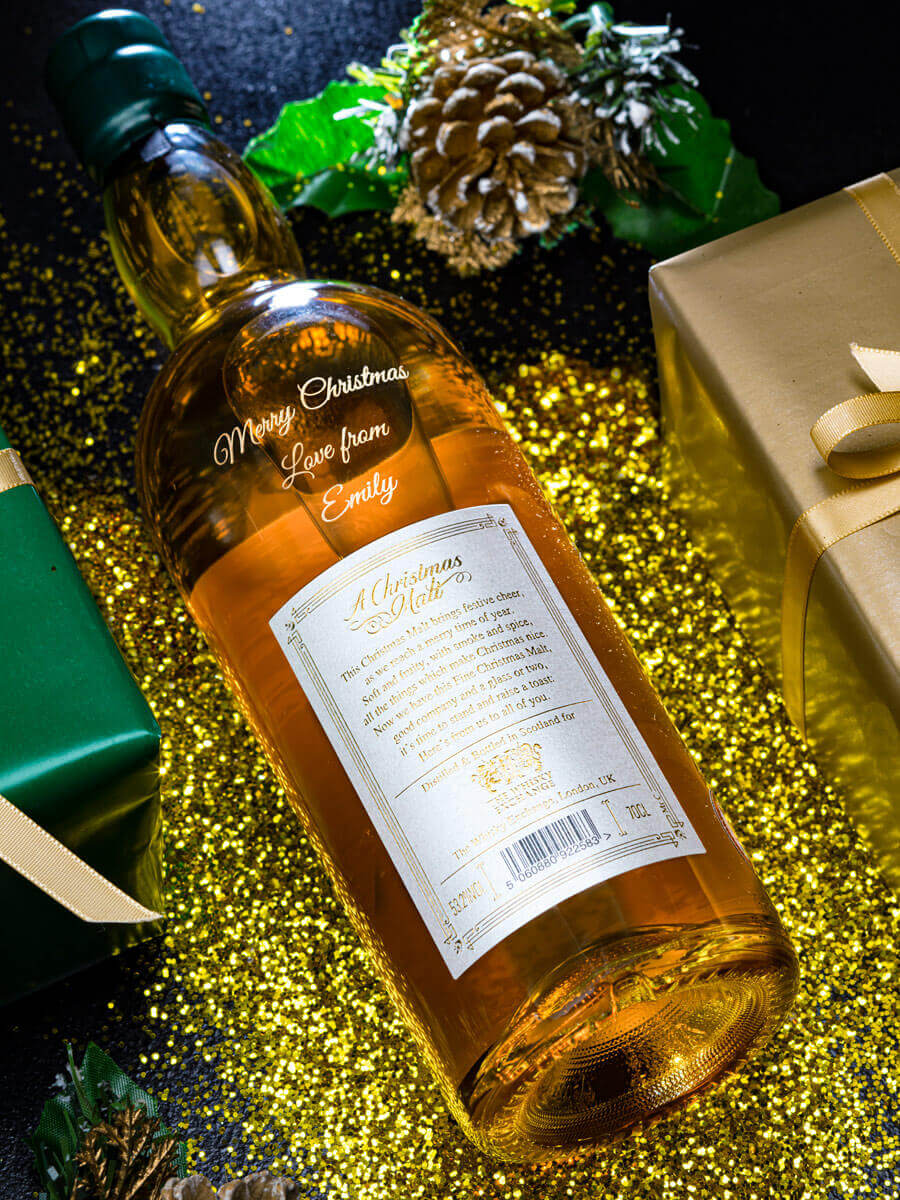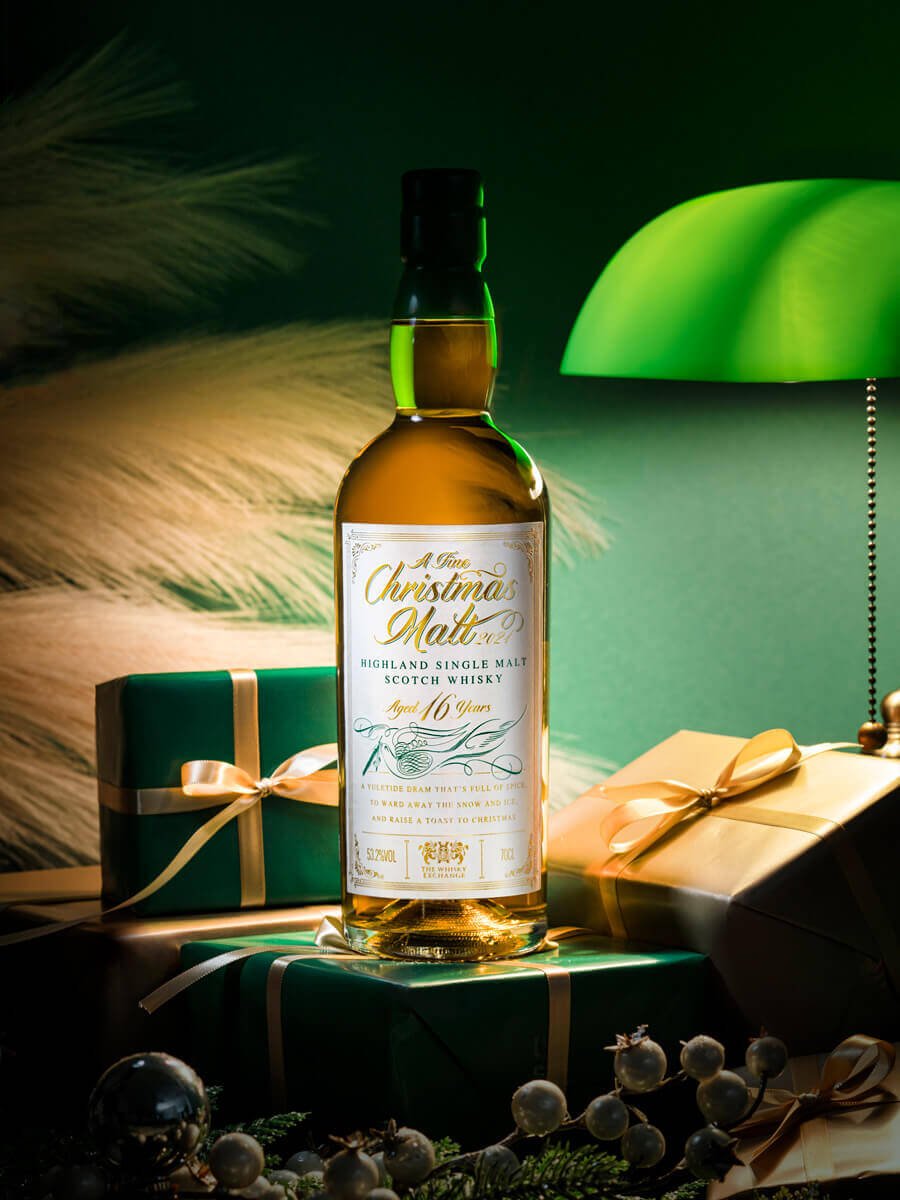 Not Available
This product is currently out of stock
Enter your email address below to be notified when this product is available.
A Fine Christmas Malt to celebrate the festive season, made at a mystery Orkney distillery and matured for 16 years, before being bottled by The Whisky Exchange especially for Christmas 2021. Aromas of barbecued apples, lemon, orange, pineapple, chocolate and wood smoke fill the nose, complemented by notes of hazelnut chocolates, coal smoke, baking spice and fruit cake throughout the palate.
Tasting Notes (1)
Merry Christmas
from The Whisky Exchange
This Christmas Malt brings festive cheer,
as we reach a merry time of year.
Soft and fruity, with smoke and spice,
all the things which make Christmas nice.
Now we have this Fine Christmas Malt,
good company and a glass or two,
it's time to stand and raise a toast:
Here's from us to all of you.
A fruity dram with a lick of smoke – the perfect festive whisky, with something for everyone
A Fine
Christmas Malt 2021
It's a time for celebration and that calls for a great whisky, one that has something for everyone – A Fine Christmas Malt 2021.
Our Christmas Malt is a rollercoaster of festive flavour. It dives through a Christmas-stocking's worth of apples and oranges into a post-dinner bowl of nuts and chocolate, with a touch of smoky fireplace, raisin-studded cookies, cherry-topped fruit cake and even a segment of chocolate orange. The perfect accompaniment to the season.
Turn a great whisky into the perfect present with a personalised message and a gift tube. Just add a tube to your order above and hit the button below to add your own special message.
Flavour Profile
Style
Body

Richness

Smoke

Sweetness
Character
Nutmeg

Cinnamon

Orange

Smoke

Milk Chocolate

Fruit Cake
Facts
Facts
Age

No of Bottles

2200

Country

Scotland

Region

Highland
Tasting Notes
Tasting Notes
Billy Abbott, The Whisky Exchange

Nose

Barbecued apples and a touch of fruit jelly to start: lemon, orange and pineapple. Smoky cocoa nib notes develop, along with wisps of wood smoke and dark milk chocolate. The orangey notes take over, joined by damp oak, singed raisins, and dark and spicy fruit cake. Candied cherries poke out of the cake and drag things towards nutty Florentines, mince-pie filling, candied lemon peel and dark-chocolate-covered orange segments.

Palate

Chocolate biscuits, smoky orange oil, sweet apple and soft wood smoke lead. Coal smoke floats underneath and hazelnut-studded chocolate notes roll through the middle. The damp oak of the nose reappears with a touch of forest floor, oat cakes and toasted rye bread, before being sweetened up by plump raisins, brown-sugar-dosed baking spice, a thin slice of rich fruit cake and a cinnamon-spiced oatmeal-and-raisin cookie.

Finish

Soft charcoal notes linger as candied apple, chocolate biscuits and cinnamon spice slowly fade.

Comment

A softly smoky rollercoaster through festive flavours, from the more traditional fruit cake and pudding notes to Christmas stocking apples and oranges, sweet and savoury biscuits, and even a posh chocolate orange. The perfect accompaniment to wintery weather, whether in a glass, a hipflask or even a hot toddy.
Customer Reviews
Reviews (5)
Reviews
4

Really good, but it smells and tastes more like Croftengea than HP. In fact, it's a dead ringer for the 11yr Croftengea from AD Rattray. Luckily, I loved that release. But the peat is quite a bit different than HP's normal style, (at least, what I've had from them before) so beware. Anyhoo, the taste is smoked apples and pineapples with a strong highland style peat presence throughout. I didn't get any ash in the bulk of the palate, more medicinal in nature. There are some baking spices, lemon, and some very faint chocolate notes as well. It finishes with decent length, but it does finish dry - this is where the ash comes in. It's a solid pour. Nice complexity.

5

This is spectacular! I fail to remember when was the last time I drank a malt so balanced and satisfying. It needs some time in the glass, but then it's layer after layer of yellow fruits, cinnamon, nutmeg, christmas cake, balanced sweetness and just a wiff of smoke.

5

Yums My guess is Highland Park! Gotta love that hint of smoke, cinnamon spice, and jammmmy sweetness…

5

This is a very interesting whisky. It shows a profile I've not encountered before, or at least not in recent memory. While this might not appeal to everyone, I do think TWE has picked a high quality malt that shows yet another aspect of whisky. The combination of sweet fruitiness with a whiff of smoky soot and minerals make for a unique and lovely dram!

3

Slightly disappointing compared to last year's spectacular Christmas Malt. It's pleasant but not remarkable. I'll stick to Glendronach 15 or Glenfarclas to get my Christmas fix
Disclaimer
Disclaimer
While we endeavour to provide full and accurate information on our website, there may be occasions where producers have updated their recipe or failed to provide full details of their ingredients and processes. This may affect factors including the product style and allergen information, and we would advise that you always check the label and not solely rely on the information presented here. If you are at all uncertain about a product then please contact our customer service team before purchase.
Good To Know
How we pack
Eco-friendly Packaging

Our boxes are made of 100% recyclable cardboard. Our special air-inflated packaging is both re-usable and recyclable, as well as efficient to both transport and dispose of.

Flexible Delivery Options

We deliver to countries all over the world! You can also select express delivery, or pick a specific delivery date, at checkout.

Packed With Care

Our experienced warehouse team take great care with every order. As specialists in glass packaging they ensure that your items stay safe and secure in transit.
14-Day returns policy
We want you to be 100% happy with your order and it is our aim to ensure that all products supplied to all customers arrive in perfect condition. You have the right to cancel your order at any time without being charged for the goods ordered within 14 days of purchasing (other than for perishable or personalised products or those products that have been specified as non-returnable).